WPC Extruder
| | |
| --- | --- |
| Contactor |  Schneider Brand |
| Motor |  Siemens Ac Motor |
| Temperature Controller |  Omron Brand |
| Inverter |  ABB Brand |
| Conical Twin-Screw and Barrel | Bi-metallic or SKD-11 |
| Heater |  Cast Aluminum heater covered SS board |
| Gearbox | JC Gearbox |
| Cooling Fan | High-frequency fan with saving power |
Your Premier WPC Extruder Manufacturer
Benk WPC extruder also named wood-plastic composite extruder which is used to make the wood-PE profile, wood-PVC profile or wood-PVC foam board. Benk has been made WPC extruder for more than 8 years in China, and we make 45-110 diameter conical twin screw extruder. Benk WPC extruder has high quality with best prices in China, as we use top parts for the extruder, such as Siemens AC motor, Schneider electric, ABB inverter, ceramic heater, high-frequency cooling fan, Crydom SSR. As per our experience, the customer would like to choose SJZ65/132 and 80/156 conical twin screw extruder for their production line, their capacity can reach 250kgs/hour and 400kgs/hour, and you can DIY your machine, which means you can choose the brand of electrics as you need. BENK WPC extruder has long life service, as we choose the special designed screw and barrel for WPC profiles and boards, all screw can be used for 6-12months for non-stop production. If you have drawn for the WPC profiles you need to produce, please send us your drawings, we will make and quote the extrusion mould as per your design, usually, the cost for extrusion die will be around USD4000.00 each set. Benk WPC extruder can make WPE and WPVC profiles, WPE profiles are used outdoor, WPVC profiles are used indoor, WPE profiles can be used as the floor in the park, outside pavilion, fence in the garden. WPVC profile can be used as decoration indoor. Benk don't only produce WPC extruder and downstream machines, we also supply plastic solutions to our clients or friends, such as problems with your machines, the problem with production formula. Just send email to our support team [email protected], we will reply you in asap!
Data Sheet
Videos
Image Gallery
Main Parts
Send Enquiry
Different Tye for  WPC Extruder:
| | | | | | | |
| --- | --- | --- | --- | --- | --- | --- |
| Model | SJSZ-45 | SJSZ-51 | SJSZ-55 | SJSZ-65 | SJSZ-80 | SJSZ-92 |
| Screw Dia.(mm) | 45/90 | 51/105 | 55/110 | 65/132 | 80/156 | 92/188 |
| Number of screw | 2 | 2 | 2 | 2 | 2 | 2 |
| Max. Rotating speed(rpm) | 45 | 45 | 40 | 38 | 37 | 33 |
| Effect length of screw(mm) | 985 | 1070 | 1200 | 1440 | 1800 | 2500 |
| Main Motor(kw) | 15 | 18.5 | 22/30 | 37 | 55 | 110 |
| Barrel heating power(kw) | 12 | 18 | 18 | 24 | 36 | 85.8 |
| Capacity(kg/h) | 120 | 80~150 | 150-180 | 250-300 | 320-400 | 600-800 |
| Center height(mm) | 1000 | 1000 | 1000 | 1000 | 1000 | 1200 |
| Net Weight(kg) | 2800 | 3200 | 3500 | 4000 | 5500 | 8000 |
| L*W*H | 3.3*1.2*2.1 | 3.6*1.1*2.1 | 3.6*1.1*2.1 | 4.2*1.52*2.4 | 4.7*1.55*2.4 | 6.7*1.6*2.5 |
Videos to Show Our WPC Extruder: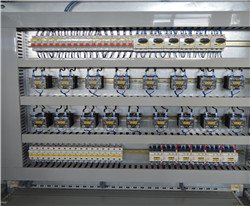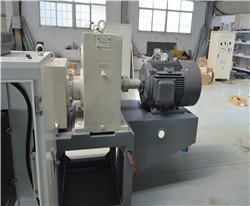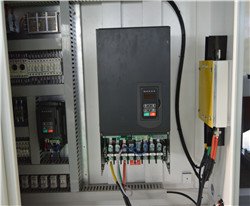 Brand and function for other electric parts:
| | | |
| --- | --- | --- |
| Name | Brand | Function |
| SSR | Crydom Brand with CE certificate | Control temperature for twin screw extruder and extrusion die |
| Overload Protector | Schneider Brand(Gv2 type) | Protect fan, the motor in the vacuum pump and water pump |
| Fused core | Bussmann Brand |  Protect Heater and SSR Relay |
| Middle Relay | Ormon Brand | Control Electric Line |
| Switch | Schneider Brand | Switch on/off heating function |
| Ammeter | CHNT Brand | Checking heating electric line is working or not |
| Reactor | Riye Brand | Protect inverter when starting the machine |
| 24V power source | Ormon brand | used for SSR relay |
| Air Switch | LS Brand Belongs to LG Group | Protect Whole Electric Line |
| Isolate Transformer | CHNT Brand | Protect staff safe when they operate the machine |
| Inverter | ABB Brand | Protect Siemens Ac Motor |
| Vacuum pump | Chinese No.1 Brand | To take out water or moisture in barrel |
WPC Extruder: Importers Guide
The WPC extruder makes it possible to produce WPC granules (raw materials), planks, door boards, foam boards, and other WPC profiles.
In this short guide, you'll get to learn about:
– The WPC extruder function and parts
– Types of WPC production lines
– What's unique about Benk's WPC extruders
– How to order a WPC extruder
Chapter 1: What is a WPC extruder?
The main role of the WPC extruder is to produce molten WPC polymer by heating & melting solid WPC raw material.
You then shape, mold and cool the melt into different products.   
1.1. WPC raw material
A wood-plastic composite results when a polymer is combined with plant material to form a homogeneous product that's superior to its constituents in terms of strength, workability, chemical, and physical properties, etc.
Thermoplastics used for WPC composites include PVC, PE, PP, and PLA. They are mixed with rice husks, vegetable waste, coconut shells, wood flour, almond shells, peanut hulls, bamboo, etc.
During the WPC profile extrusion process, other ingredients are added to the product's formula including mineral fillers, pigments, lubricants, plasticizers, stabilizers, etc.
You can actually tell the color of the pigment used by looking at the finished product. Fillers add bulk, reduce the manufacturing costs, and also enhance the product's physical properties. Lubricants & stabilizers, on the other hand, act as processing aids.
WPC advantages:
The composite's main advantage is that it combines the best properties found in wood and plastic polymers. More precisely: The aesthetic properties of wood. And the functionality and desired properties of plastics such as fire retardation, water-proof, insect-proof, etc.
WPC as a sustainable, green and energy-saving material
Manufacturing WPC products is fast, less-energy & capital intensive compared to making wood products. Not only that, WPC products are fully recyclable at the end of their useful life; you can recycle them into WPC pellets then made into new products. They also reuse waste products such as wood dust reducing the demand on depleted forest reserves.
Where can you get WPC raw materials?
You can choose to buy ready-made WPC granules from other manufacturers. Or you can produce WPC granules for extrusion at your own factory.  If you choose the latter option, you'll require:
Wood powder miller production line
WPC composite pellets extrusion line
If you'll produce Wood-PVC products, you'll also need a high-speed mixer for blending wood flour, PVC powder, and other additives prior to feeding them in the WPC extruder machine.
1.2. Parts of a WPC extruder
The WPC extruder happens to be the most important part of any WPC extrusion line. It consists of electrical and mechanical components. For this article, we'll just highlight the main parts, but you can read more here.
– Screw: The rotating cylindrical screw is housed inside the barrel. It's the main working part responsible for conveying, mixing, shear refining, melting, metering/pumping and homogenization
– Barrel: Houses the screw and together they convey the polymer forward. See, the melting polymer will stick to the barrel's walls. As the screw rotates, it scopes the melting material and slips it forward.  
Extruder with fans on barrel (black)
– Heaters: Lining the barrel are electric ceramic heaters that supply heat utilized for melting the plastic polymer. Temperature control is very essential as high temperatures (above 220°C) might cause the wood raw material to degrade and burn.
– Shaping Die: It's a shaping orifice mounted at the extruder's head. The die design depends on the product's shape. There are separate dies for WPC planks, door boards, profiles, etc.  
– Vacuum system: It's used where the raw material fed into the extruder has a high moisture content. The system exhausts any steam along with fumes produced by the melting polymer.
1.3. Twin-screw extruder for WPC profiles
Plastic extruders usually have one to two screws inside the barrel. Exclusively for WPC extrusion, we use the twin-screw extruder.
Working with many customers, we have noticed that they tend to look at the extruder's production capacity. Two models have become popular:  
Twin screws in extruder's extruders
SJSZ65/132 conical double screw WPC extruder with a production capacity of 300kg/h
The SJSZ80/156 production capacity of 450kg/h
1.4. Popular WPC extruder production lines
WPC might be relatively new in the marketplace, but wood-composite products are gaining acceptance from consumers. They are similar in appearance to wood products, but they are also water-proof, stronger, less-hazardous, long-lasting, and insect & mildew proof unlike products such as plywood, MDF boards, etc.
Once you get any of our WPC extruder models, you just have to change the downstream equipment (die, calibration mould, pulling machine, and cutter) to produce different products.
Benk offers a number of WPC extrusion lines including:  
Wood-PVC profiles
The raw material used here includes wood and PVC powder. From this, we have the:
Produces 600-800 mm WPC door boards that are later joined with other WPC profiles to produce complete doors. This production utilizes the SJSZ80/156 conical twin-screw extruder.
Wood-PVC vinyl laminate production line
WPC plastic composite flooring
The line produces WPC plastic composite flooring planks used for indoor applications. The core layer is made from WPC material. It's sandwiched between other layers including the backing layer, vinyl (printed layer), and the UV special surface treatment layer.
The WPC laminate planks have a click-lock functionality that minimized the need for glue. Our WPC extruders paired with the right die & mould will produce flooring of dimensions of 1218×147mm, 1218×180mm, and 1524×225mm.
WPC wall panel production line
The WPC wall panel making machine produces panels from WPC material that are 300, 400, or 600mm in width. These panels are used for indoor wall decoration, and you can find out more about them here.
WPC wall panels
Wood-PE profiles
Wood-PE profiles are composites of wood material + polyethylene (PE). Products made from wood + PE are geared towards outdoor applications. It's because of the great properties of PE including its stability when exposed to UV for a long time, resistance to alkalis and acids, etc. In fact, it can be used outside for 50+ years.  
Wood-PE composite decking
PE WPC decking production line
The PE hollow decking production line is also a type of WPC extrusion machine. It produces hollow PE decking that resembles wooden planks down to their surface finishes, texture, and feel. They have dimensions of 40mm*25mm*2000mm. And are used for making patios, pavilions, outdoor walkways, decks, etc.
PE-wood profile extrusion line
The PE-wood profile extrusion line makes WPC profiles used as substitutes to similar wood products. For instance, PE fences, pillars, frames, planter pots, park benches, etc.  
Wood-PE fence
Co-Extrusion WPC Production Line
This WPC extrusion line is also called the "new-style co-extrusion WPC profile production line."
It was developed to solve the issue of wood-PE profiles getting chipped and damaged in the sun after long exposure.
The innovative material relies on two extruders co-extruding; the main extruder and side extruder. The inner layer consists of structural foam. It's made when a foaming agent is used in the formula (foaming just makes the layer porous and lightweight).
The hard exterior layer is also called the crust and it protects the inner layer. We can supply the main WPC extruder and the side extruder together with the co-extrusion die.   
New-style co-extruded WPC decking  
Wood-PVC foam
Wood-PVC foam products are made by mixing wood, PVC polymer resin, and other additives. But the formula contains a fair amount of foaming agents that make the products lighter in weight.
WPC form board production line
WPC form boards have become popular replacements of MDF boards and plywood. You can use them as construction, kitchen cabinet, furniture, and deck boards.
Example of WPC foam boards
This WPC production line utilizes the SJSZ80/156 extruder for high production rates. The final boards are 5 to 50 mm thick with widths of 1220 to 2450mm. You can find out more here.  
Chapter 2: What's unique about Benk's WPC extruders
2.1. Advantages
a) Best international brand parts
Quality is at the forefront of everything we do at Benk Machinery. To achieve the demands of our international customers, we use the best parts from reputed manufacturers such as ABB, Crydomm, Siemens, Schneider Electric,  Jiangyin, etc. We have some of their parts in stock and can help you when you need replacements.  
Siemens Standard Motor, 3-phase
b) Turnkey solution
Get your WPC extruder customized to your specification. You can choose the material for the screw and barrel. The brand parts of the individual components such as the motor, gearbox, relays, and contactors can be customized to your liking.
Our technical team has more than 10 years experience designing, building and testing high-quality turnkey extruders.
c) Long service life of the Screw and Barrel
The WPC extruder's screw and barrel are made from 38CrMoAlA alloy steel and have undergone special nitriding treatment to boost their durability.
Extrudate at the end of extruder's barrel
d) Low power consumption
Using an ABB inverter helps us reduce the power consumption of the extruder. We also used the ABB frequency converter to control the power supplied to the motor, and it's all linked to the machine's PLC control system for automation.  
e) Specially designed screw
The screw is specially designed to plasticize WPC material, and offer high stable outputs.
f) Quick hydraulic screen changers available
In case your WPC extruder needs to be fitted with a hydraulic screen changer, we can do this for you.
g)Excellent after-sales service
Our services don't end after you buy the machine. Our team is on hand to ensure you get the best out of your WPC extruder by offering excellent after-sale services.
We offer online video technical support. And you'll be getting help from the professionals who designed and built the WPC extruder machine.
You also get free spare parts supply for the first months. Our engineer who will come to help install the machine can train your first line operators to become proficient at using the WPC extruder. We also maintain connections with local service agents for on-site repairs or maintenance services.
h) Cooling system & temperature controller
Omron intelligent temperature controllers
Temperature control is critical for stable extrusion performance and consistent products. Our WPC extruders are fitted with Omron intelligent temperature controllers. Along the barrel, each zone has heaters and thermocouple. Fans along the barrel also keep the temperatures within the acceptable range and screws are oil-cooled.
h) High-quality gearbox
The gearbox transmits power from the motor to the screws. Our gearbox brand comes with a hard tooth surface. Two options are available: Vertical gearbox where the motor sits below the gearbox. This shortens the extruder's length, ensures it takes up less space in shipping containers and gives it a better appearance.
 Conical Twin-screw Extruder with vertical gearbox
The other type is the horizontal style where the motor is on the same level as gearbox.
Horizontal type gearbox
2.2. How to order a WPC extruder
It's easy to get started with Benk's WPC extruders. The first step is to contact us with your questions or send us a quote for any extruder model you need. You can tell us more about your production capacity, raw material composition, etc.
We can offer further consultation with or without an order. Our payment schedule is also flexible. Generally, an initial 30% prepayment is required to kick start production. The remaining 70% is paid after your WPC extruder is tested, inspected and ready for shipment.  
2.3. What is the SJSZ65/132 conical double screw extruder price?
Order your SJSZ series extruder today
How much can you pay for a brand new Chinese WPC extruder? Buying your machine from China can spell many benefits for your company. First, the lines tend to go for less. But you must work with a reputed WPC extruder supplier who is particular on the line's quality.
For the price range, you can expect to pay anywhere from US$18,000 to US$35,000. You'll get more accurate pricing once you send us your quote.
2.4. Used second-hand WPC extruders for sale
Benk offers new and second-hand/used WPC conical twin-screw extruders. They are several reasons why a customer may prefer a used extruder. First, it's cheaper than a new extruder. And used doesn't mean it's damaged or incapable of stable extrusion.
Second hand-extruders are usually conditioned by dismantling, cleaning, rebuilding and replacing any parts if needed. Some also come with new control systems. Testing is also done fully before shipment.
You can contact us to find out if we have used WPC extruders in stock.
Send your Inquiry Here
We stand out among other WPC extrusion machine manufacturers in terms of cost, quality and friendliness of our sales staff. Talk to us:
Contact Person: Tony Cao
Email: [email protected]
WeChat/WhatsApp: (+86) 13052271776
Phone: 0086-512-58901463
Factory Address:
300m West of Luyuan Over Pass Bridge, Zhangjiagang, Suzhou, Jiangsu, China (Mainland)
FAQ
Are you a trading company?
Benk is a manufacturing company with a working workshop.
How long does it take to deliver the machines?
It can take anywhere from 7-10 working days if the extruders are in stock. For turnkey/non-standard extruders customized to the client's specifications, the lead period is between 25 to 30 business days.
References