PVC Pipe Making Machine
Benk PVC pipe making machine can be used to make PVC electric conduit pipe, PVC threading pipe, PVC sewage pipe, PVC water supply pipes, PVC SWR pipes.
Benk PVC pipe making machine has three types which are Four cavities PVC pipe line for 16-32mm, Double outlet PVC pipe which can make 16-160mm pipes, the last one is single out PVC pipe line for 16-1000mm PVC pipe.
PVC pipe making formula is the most important issue to affect the quality of PVC pipes, Benk machinery can supply the best offer for PVC pipe making machine, and also can supply the free formulation service to all our clients.
Many clients want to know the cost for PVC pipe manufacturing plant and process flow chart, it is free from us, just send us your demands, our salesman will response to you, and it is different with HDPE pipe plant, but we already had many pipe making project in many areas and countries.
Benk machinery only make new PVC pipe manufacturing machine, but some clients maybe need second-hand PVC pipe making machine for this limited budget, we can try to find for him, normally we do not suggest old machine for you, as it will be difficult for green hand, if you have engineer in your work, and he can fix the PVC pipe manufacturing line for you.
Benk PVC pipe making machine has the highest performance in Zhangjiagang City, if you are in our welcome, welcome to contact Tony, +86-13052271776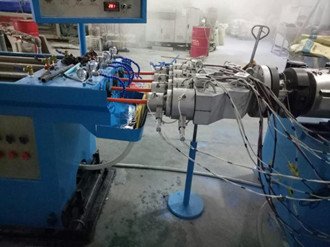 Four outlets PVC Pipe Making Machine can make 16-32mm PVC pipes
PVC Pipe Making Machine can can max.160mm PVC pipe in double cavities PVC pipe making line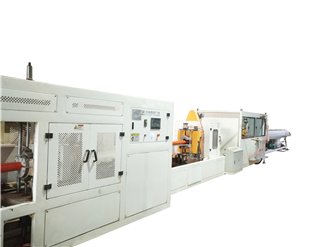 HDPE pipe extrusion line is used to produce 16-1500mm PE pipes which are use to supply water with pressure.
Why Big Brand Trust BENK MACHINE
High Speed Output
Production capacity from 50kg/hr to 700kg/hr for single extruder, 110-600kg/hr for conical twin screw extruder
Famous Brand Parts
Simens motor, ABB inventer, OMRON temperature controller, JC gerabox, famous brand screw and barrel
Free Formula Support
Our engineer will supply free formula after buying our machines
Technical Support & Training Service
Our engineer will go to your factory to help you install machine and train your staffs
What is the benefits and service you can get from us when we cooperate
The Ultimage Guide: PVC Pipe Making Machine
Figure 1: Stacked PVC Pipes
PVC pipes are hugely-popular in many markets. They offer superior performance as sewage drain pipes, drainage pipes, rainwater pipes, and SWR pipes.
You will also find them in most water supply systems and pumping applications. They are low cost and last for many years.
The technology of the PVC pipe has been changed by the twin screw extruder as well as its formulation. Many clients now make high filler PVC pipe with the conical twin screw extruder, and low filler pipes using the parallel twin screw extruder.
Are you looking for PVC pipe making machine for sale? Do you also want the best quality PVC pipe production line with price?
Today, you'll learn about the different types of PVC pipe making machine, and about Benk's trusted and high performance PVC Pipe Making Machine.
Chapter 1 : What kind of PVC pipe making machine do you want?
We can distinguish PVC pipe production lines based on the number of pipes they can produce simultaneously . At Benk, you can choose between three options:
1.  Four cavities PVC pipe production line
The four cavity PVC production line outputs four PVC pipes simultaneously.
Figure 2: PVC Pipes exiting the 4-output pipe mould
It consists of the extruder, mold, vacuum calibration tank, four caterpillar haul-off machine, no dust cutters and stocker.
The four-outlet pipe making machine can produce PVC pipes with an OD of 16-32mm.
Figure 3: PVC pipes from the mold entering the vacuum sizing tank
Having a one PVC pipe machine producing four pipes at the same time translates to lower labor and machine costs.
It's also like having four separate machines, which means you will produce more pipes at shorter time.
Figure 4: The 4 cavity cooling calibration tank
The calibration tank is made with a body material of S.S 304 and a thickness of 3 mm which helps it withstand the pressure exerted by the vacuum pumps.
Figure 5: Four station haul off
The haul-off is customized to pull the pipe at constant speed and uses caterpillar tracks. The pipes then enter the 4 station no-dust cutter equipped with a metering and encoder device for accurate cutting.
Figure 6: Coat Hanger Four Cavity Mould
With a maximum capacity of 250KG per hour, the four cavity pipe making machine can average five to six tons of products per day.
2.  Double outlet PVC pipe making line
It can produce PVC pipes from 16mm up to 160mm . You will enjoy more economical benefits since it extruders two pipes. You'll also have the ability to produce pipes with more diameters rangers than for the four cavity machine.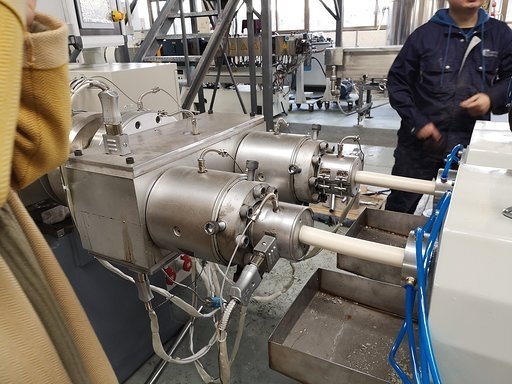 Figure 7: Double tube extruding
The double cavity PVC machines has a twin two-chambered vacuum calibration tanks that adopts single control.
Figure 8: Double-Tube, Single Control, Vacuum Calibration Tank
Two belt haul-off machines off consistent pulling even at high speeds. The belts' heights can be adjusted pneumatically or mechanically.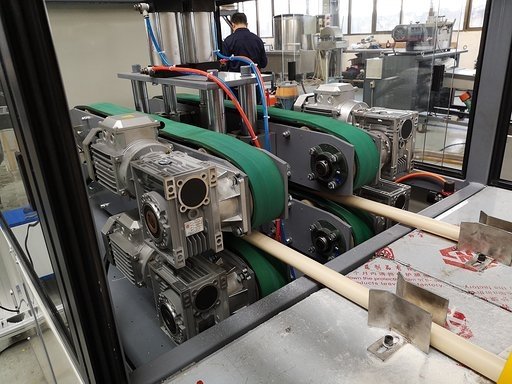 Figure 9: Double drawing haul-off machine
Finally, the line consists of the double cutting machine that's controlled automatically.
Figure 10: Double cutting machine
3.   Single outlet PVC pipe making machine
Also called the one cavity PVC pipe extrusion line, it produces pipe with diameters of up to 800mm.
The line consists of a conical twin extruder, calibration tank, haul-off, cutter and stocker. In the next chapter, we'll look at the PVC making process in detail focusing on the single outlet PVC production line.
Chapter 2: PVC Pipe Production Process
Production video of 250mm pipe:
The process of producing PVC pipes proceeds in five stages:
Mixing & Drying of raw materials
Extruder and moulding
Traction/haul off
Cutting & stacking
Belling
1.1 Mixing & Drying of Raw materials for PVC Pipe Production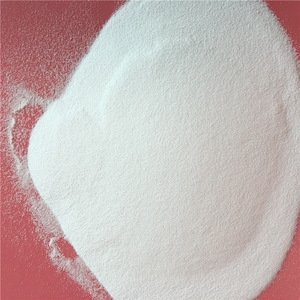 Figure 11: PVC raw material forms
Polyvinyl chloride is a thermoplastic resin available as dry free-flowing powder.
However PVC is not stable during direct processing. So we need additives in the manufacturing formula to stabilize it.
Additives include lubricants e.g. Steric acid, stabilizers e.g. Calcium Stearate & Ca-Zn, fillers e.g. Calcium Carbonate added to reduce use of plastic resin, and plasticizers e.g. DOP.
PVC powder attracts moisture from the atmosphere during storage. So we use the high-speed mixer to dry and mix the raw material.
Learn more about more about our high-speed mixer.
1.2 Extrusion and moulding
Figure 12: Twin Extruder for PVC Pipes
Heating, melting, mixing and conveying of molten PVC polymer to the shaping die, are some of the functions performed by the twin screw extruder.
Screw design has the biggest impact on the extruder's performance, its output and quality of finished pipes.
For PVC pipe making machines, the most popular screw configuration is the double screw design with two screws in the barrel.
They operate on the stick & slip principle. As the raw plastic material is heated by heaters, it sticks on the inner walls of the barrel. When the screws rotates, they force the material forward.
Based on how the screws are arranged in the extruder we have two types of twin extruders; the conical twin screw extruder and the conical twin extruder:
What is the different between parallel twin screw extruder and conical twin screw extruder?
The capacity of parallel twin screw extruder is higher than conical twin screw extruder
When we make high filler PVC pipes, it is better to choose conical twin screw extruder, when make lower filler, we mostly choose parallel twin screw extrusion machine.
Moulding by the pipe extrusion die
Molding of the molten polymer into an annular shape takes place in the die. Molten polymer will flow into the die through a mandrel. Then into the landing area that has the required cross-sectional shape.
Figure 13: Die diagram
The raw material of PVC pipe die is 40Cr. We electroplate the pin and bush, and the inside of die to make it durable.
The extrusion body sizes are different when making PVC sewage drain pipe and water supply pipes. The outer diameter of water supply die is bigger and longer than for sewage pipe.
When we make PVC pipe mould for you, we need to know what out diameter and wall thickness or pressure level you want.
Then we can start making the PVC pipe die for you accordingly. The electroplating layer will be polished by longer production, we can supply the bush and pins to you after 1-2 years production, as we have stock each sizes and drawing of mould, then we can check easy and fast to make a new one for you.
For PVC pipe mould, the maximum we can make is 800mm, and our mould body is much bigger than others which can make high pressure PVC pipes.
When you have problems with die head or other parts of mould, we also can make them for you when you contact us.
1.3 Sizing or Calibration
Figure 14: Vacuum calibration tank for PVC pipes
After the pipe exits the die, we need to calibrate it to the accurate sizes or dimensions. Calibration takes place in the vacuum tank.
It has calibrator or sizing sleeve at the entrance. There are more sizing rings as you move deeper into the tank.
A vacuum pump creates a vacuum inside the first compartment. This pushes the walls of the pipe against the sizing sleeves.
Figure 15: Pumps fitted beneath the tank
As the pipe moves through the tank, it's also sprayed with cooling water so that the dimensions are retained.
Further cooling of the PVC pipe can be performed in a spray tank if it has a large diameter or immersed in water troughs typically for smaller pipes.
What is the advantage of Benk Vacuum calibration tank?
We always use thick stainless steel 304 board as the tank's body, and use the top vacuum pump and water pump from China. We provide longer guarantees for them.
There is a lot of noise in the vacuum tank when it's working since water hits the tank and pipe. We install two noisy reducers on the tank to lessen the noise.
Besides this, we also use the filter to protect the water pump and vacuum pump.
1.4 Traction or haul-off

Figure 16: Haul off for PVC pipes
Pressure build up in the extruder's barrel provides the necessary force to push the extrudate into the die. But for the pipe to move through the vacuum tank, we have to apply traction to it.
Pulling is a very critical process since it controls the thickness of the pipe. If you have inconsistent pulling, there will be defects in the final product.
We can also position the printer after cooling equipment. You'll be required to mark the PVC pipe with the pressure rating, dimensions, date of manufacture, type of plastic resin, and company trademark.
1.5 Cutting & Bundling
Figure 17: Cutter
PVC pipes are usually cut into pieces by the PVC pipe cutter. The typical length of PVC pipes is usually 20 feet or 6 meters.
We use non-dust cutters for PVC pipes with diameters of 20 to 110mm. And planetary or saw cutters for PVC pipes of over 110mm.
Figure 18: Finish PVC pipes
After cutting, you can inspect the pipes, and bundled them so as to make it easy to store or handle.
1.6 Belling
Video of the belling process:
During installation, PVC pipes are attend end to end by gluing. We have to bell them during production.
Belling a tube involves expanding one end into a bell shape. After belling, the mouth on one side of the pipe will have cup-shape.
So how is belling done?
We heat the mouth of the pipe using short wave heaters. When the pipe is hot and soft, steel rods that have a slightly larger diameter are inserted into the mouth, and cool water is poured over to retain the shape.
You can choose between an automatic belling machine or manual belling machine. We can supply an automatic belling machine as an auxiliary machine with your PVC pipe extruder.
What about the fittings?
If you want to manufacture PVC pipe fittings, you will need an injection molding line.
Questions you might have
Let's go over a list of questions you might have about the line:
1.   Why should trust Benk as my PVC Pipe Making Machine Supplier?
We take the quality and reliability of our machines very seriously at Benk. Since we started producing PVC pipe machines, we have never had a legal claim brought against us by an unhappy customer.
Do you make other pipe extrusion lines?
Yes. If you want to become an established plastic pipe producer, we can supply all the lines you might need including the PE production line, PPR production line and PE, PVC & HDPE corrugated production line.
Where do your customers come from?
Benk Machinery has had customers from over fifty countries including Russia, India, China, South-Eastern Asia countries, South American Countries, North America, Africa, and more.
We can help you ship and set up the PVC pipe making machine regardless of your home country.
Can the PVC pipe making line produce UPVC pipes?
Yes. To produced UPVC or Unplasticized PVC, you only just remove plasticizers from the raw material mix.
Without plasticizers, the pipe will be more rigid.
The PVC pipe production plant can also produce CPVC pipes. You will only require to get CPVC raw material that has more chlorine content than PVC.
Can I visit your factory?
We can help you arrange a visit to our factory. We are in Zhangjiagang City, Suzhou, Jiangsu, China. Just contact our manager.
Do you offer any warranty?
Yes. We offer a 13 month warranty for electrical parts, and a 6-month free supply of spare parts.
Do you offer installation services or training?
We can send one our engineers to help you install the machine. Our engineering team can also provide PVC pipe extrusion troubleshooting.
We don't have any experience with the formula?
No problem. You will get free formula support from us. We can also help you calculate the PVC pipe production cost based on the formula.
Contact us with your quote. We will respond in under 24 hours.