Plastic pipe Extrusion Machine
BENK plastic pipe extrusion machine is used to produce plastic pipe in different raw material, at present, we have PVC pipe extrusion machine, HDPE pipe extrusion machine, plastic corrugated pipe extrusion machine, PP-R pipe extrusion machine, PP pipe production line
BENK's pipe extrusion machine has super prices with good quality, we will design the die and extruder machine for our clients after telling us what sizes of plastic pipe they need, then our salesperson will follow up and send your the manufacturing process drawing in PDF file, the customer can tell us what you need to be revised as per your manufacturing plant, we also can assistant you to calculate the cost of your final product, such as PVC pipe, HDPE pipe, Corrugated pipe, PP-R pipe.
PVC pipe extruder is conical twin screw extruder, HDPE and PPR pipe need single screw extruder, all our machines are used good quality spare parts, special for electric parts, motor, inverter. screw and barrel, customers can appoint the brand for these main parts.
If you buy our plastic pipe machine, we will supply the pipe production process formula with free.
Why Big Brand Trust BENK MACHINE
High Speed Output
Production capacity from 50kg/hr to 700kg/hr for single extruder, 110-600kg/hr for conical twin screw extruder
Famous Brand Parts
Simens motor, ABB inventer, OMRON temperature controller, JT GEARBOX, famous brand screw and barrel
Free Formula Support
Our engineer will supply free formula details after buying our machines
Technical Support & Training Service
Our engineer will go to your factory to help you install machine and train your staffs if you need.
What is the benefits and service you can get from us when we cooperate
Benk will give the best advice for plastic pipe extrusion machine, as we have more than 10 years' experiences in plastic extrusion machine manufacturing.
Benk plastic pipe production line can make 9-50 single wall corrugated HDPE pipe, 50-1200mm Double-wall corrugated pipe line, 16-800mm PVC pipe, 16-1200mm HDPE solid pipe, 16-250mm PP-R pipe, and we also have auxiliary machines for whole pipe extrusion line, such as crusher, mixer, vacuum loader, hopper dryer, socketing machine, bending machine.
Benk has strong after-sales team who are worked for top plastic extrusion machine manufacturer before, and they have rich experiences in testing all pipe extruding line, they can give you advice for your formulation of PVC pipe.
Benk also supplies long time guarantee for all their plastic pipe making machines, we will supply 13 months for main parts of pipe production line, and we will supply free spare parts for some easily damaged parts.
We can supply fast service for your pipe extruding machine when it encounters troubles, as we have agents and offices in many markets, and we also can dispatch the parts to you within 7 days.
If you want to know more about our machine and our terms, please send email to [email protected], he will give you more details for your questions. Thanks!
Plastic Pipe Extrusion Machine: The Complete Guide for Importers in 2018
Do you want to venture in PVC, HDPE, PPR or corrugated plastics pipes business?
Here's exactly what you've been looking for.
Today, I want to show you how to buy the best plastic pipe extrusion machine for your business.
First, I will take you through the basics of plastic pipe extrusion process. Then, I will take you through components/parts, working principle, classification and technical specification of plastic extrusion machine.
By the end of this, you will be an expert in this field.
Keep reading to learn more:
What is a Plastic Pipe Extrusion Machine?
It primarily refers to an electro-mechanical machine designed to form a homogenous piece of piping.
The type of piping that this machine creates is ordinarily long hence you can install it without necessarily adding attachments or pairings.
It happens that this machine manufactures pipes in a high-volume by melting raw plastic leading to the formation of continuous profile.
Again, this machine is made of different components and parts which work in an integrative manner to ensure effectiveness.
So fundamentally, this machine works from the basis of high pressure and high heat levels which results to quality and durable piece of pipe.
Also, you can always adjust various settings as necessary to allow you to attain the right size of the piping material.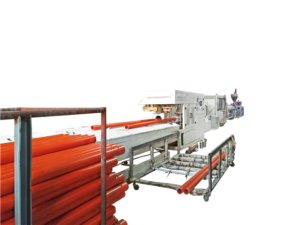 And therefore, it matters in a significant way to have this machine as one of the leading instruments in the manufacturing of piping pieces.
Well, in a nutshell, this type of machine is vital in an industrial process that aims at yielding plastic pipes.
But you should also have it mind that in other instances, you can use this machine for extruding other items other than plastic pipes.
This therefore inherently implies that this type of equipment is available in a wide range of options including size and design.
But you shouldn't worry about this right now as we will discuss all the design options available later on in this guide.
First though, let's have a look at some of the fundamentals revolving around this particular extrusion instrument;
Plastic Extrusion Basics
Essentially, plastic extrusion involves quite a broad perspective. What you ought to know is that all plastic pipes whether straws or big pipes rely on an extrusion process.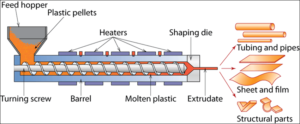 And other than the process, you need to get a few basic elements which ensure facilitation and subsequent success of the process.
For instance, you need machinery which contains all the parts and components hence making it easy for the extrusion to occur.
You also require raw materials which in this case are often plastic pellets, powder and resin plastics among others.
Then you also need a die, which is necessarily a component that shapes the end product to meet the customers' expectations.
Well, let's first describe briefly the process involved in extruding plastic pipes so that you may get a basic idea;
 What is Plastic Extrusion Process
Plastic extrusion refers to a high volume manufacturing method which melts and creates raw plastic ingredients into a continuous profile.
It is particularly a procedure for creating two-dimensional shapes on length thus providing the third dimension molding fence, edging and tubing, etc.
In general, extrusion is a process for creating objects of a fixed cross-sectional profile. And this is what precisely happens with manufacturing of plastic pipes.
Incidentally, it doesn't matter whether it's a pipe-tubing of a hundred yards or several crazy straws. All of them are products that undergo extrusion.
In fact, this process has become common in the recent days due to availability and also being relatively easy to work with.
The process of plastic extrusion generally involves melting of a plastic material and coercing it into a mold so that it can form required shape.
The die is essentially what enables the final product to form a continuous profile before its cut into length.
This process apparently begins by placing the specific raw materials which go through the machine to produce the suitable plastic pipe.
So if you have all the requirements, by the time you're finishing this process, you'll have a high quality finished product.
 Advantages of Plastic Extrusion
Before you even think of plastic extrusion, it would be important to understand how it benefits you in general.
In this case what I mean is that you need to figure out the advantages that you can obtain from the entire process.
So that you won't necessarily waste your time and resources in vain.
1.      A Perfect Choice for Producing Plastics with Constant Cross Section
Firstly, the plastic extrusion process is a suitable choice for applications which need a final product that has a constant cross-section.
The importance of this is that you won't get into unnecessary needs for fixing the pipes with other add-ons or couplings.
2.      Cost Effective way of Producing Plastic Components
The second advantage is that plastic extrusion is relatively affordable.
Primarily, when you undertake this process, you'll notice that it involves somewhat low cost but the production level is high.
So in a nutshell, you end up gaining more than you're losing when you compare the worth of input versus output.
3.      Ability to Make Plastic Material with Complex Shapes
Through this process you're able to create rather complex cross-sections quite easily.
So that you won't require the need for couplers just like I did mention before.
The final product you obtain via plastic pipe extrusion process is ordinarily brittle. For that reason, you'll be able to produce pipes which have a topnotch surface finish.
Disadvantages of the Plastic Extrusion Process
Well, on the flip side, it would also be vital to look at some of the shortcomings of this particular process.
1.      You May Need to Make Intensive Changes to Produce Desirable Plastic Pipes
But at times you'll realize that you may need to conduct a significant amount of changes in the process for desirable results.
This could be difficult hence making the limited ability to make any necessary changes in one step once the process begins a distinct disadvantage.
2.      At Times, Intensive Supervision is Necessary Once the Process Starts
The other shortcoming of this process is that it requires intensive supervision once it starts.
Of course, the machines are automated, but you also have to control the other parameters pertaining to the overall production.
So this could perhaps be a little bit tricky bearing in mind the high temperatures within the surrounding of this equipment.
Also, you also have to have better knowledge of operating this machine.
Remember that in most instances you'll always from time to time need to adjust various elements for better results.
For instance, you have to know how to control temperature appropriately throughout the different stages of this process.
 Why You Need Plastic Pipe Extruder Equipment
Answering this question would be important because it clearly spells out your specific reasons for purchasing this specific instrument.
In particular, a plastic pipe extruder is fundamental in the processing of high-quality plastic piping and other related materials.
The truth of the matter is that this particular equipment plays an integral role in different aspects of life in general. Therefore having it is inevitably imperative.
a)      For Manufacturing Medical Accessories
You see, this machine is vital when it comes to manufacturing medical grade plastic tubing and profiles.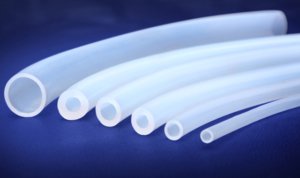 Such devices are helpful in facilitating faster healing of a sick individual since they're used for delivering fluids to and from the body.
The essence of this is that it prevents someone from enduring pain extensively or even losing life for a problem that could be handled.
b)      Ease of Producing Construction Items
The other vital reason why you'd need a plastic pipe extruder is for creating different building and construction tools.
Ordinarily, you'll find that in the modern day, building engineers often incorporate a lot of plastic pipe extrusions in their various constructions.
The plastic excursions have become integral components of several building items.
Some of these products include cable ducts, plumbing profiles, safety barriers, decorative trims and electrical units housing, etc.
c)      It Helps to Improve Agricultural Production
The ever-increasing agricultural activities is also another fundamental reason for having this particular instrument.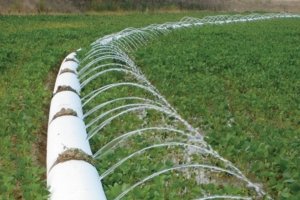 Advancement of agriculture even to the small-scale level through the construction of greenhouses necessitates the use of plastic extrusion products.
Incidentally, this is more specific in horticulture where most gardening tools used here are made from plastic extrusions.
For instance, the piping, spiral guards and trimmer guards are some of the essential plastic extrusion items common in horticulture.
It thus implies that there's a lot you can do with this machine even from a modern agricultural point of view.
d)      Scientific Research and Exploration
Well, you may not believe this, but the truth is that you can produce various plastic pipes for exploration and experimentation.
Different specialists prefer using wide-range of plastic pipes for facilitating their particular ventures, especially in research and exploration.
And in the recent times, products from plastic extrusion have become common in such fields.
Of course, this is important because it shows that such materials are of substantial need when it comes to complex designs.
Basically, as you can see from most of these statements, having a plastic extrusion is significant for various reasons.
We can as well state that owning this particular equipment is one way of making life quite more comfortable.
It's because you have the flexibility to produce quite a variety of valuable and fundamental products for different fields.
So far we've seen quite a number of compelling aspects regarding the plastic pipe extrusion machine.
But we still got a lot of other integral areas to tackle concerning this machine.
Therefore, without wasting much time, let's directly head straightway to the point and look at the key components of a plastic extruder.
Parts of Plastic Pipe Extrusion Machine
Let me tell you the truth;
From the appearance of this machine, it looks quite simple and straightforward until you start operating it.
However, this machine consists of different types of parts and components which work together and perform different roles.
And you may only notice this the moment you start operating it and when the need for adjusting its settings arises from time to time.
Interestingly, all these different parts are all crucial in the production process of plastic pipes.
So before you even think of importing this machine, it is only appropriate to have an idea of some of its major parts. It's helpful since it makes the operation quite easy.
Additionally, it also allows you to know what to expect especially regarding the replacement and repairs of such parts and components.
So let's get straightway to the point and learn some of these critical components briefly;
        i.    Hopper
This refers to a funnel-shaped bin that allows feeding of the raw materials into the machine for the start of the processing. At times you may as well refer to it as a feeder.
As you'll see later on in the working principle of this machine, you'll notice that pipes emanate from powder or plastic pellets as raw materials.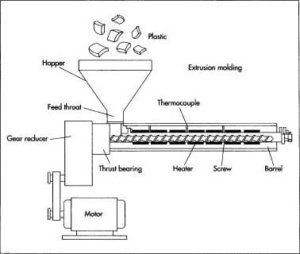 So mainly, these raw materials often available in the form of granules or small particles that are poured into the machine at the hopper.
And the role of the hopper or the feeder is primarily to feed the materials or ingredients into the extruder.
A hopper's size varies from one machine to another depending on a wide range of factors but mostly the design of the extruder.
      ii.    Control Unit
A control unit of an extruder consists of various parts including an electric cabinet and with electrical components and other control systems.
Primarily, all the elements in the control unit ideally regulate various systems and parameters of this machine.
As an operator, this is what you'll often focus on most of the times as you use this machine. The reason is that all the other functionalities of this machine receive signals from this component.
It features buttons that relay signals for the specific task upon pressing and hence allowing it to function seamlessly.
In some high-end and advanced extruders, some control units feature LCD screen display. This obviously allows you to synchronize the operations of this machine effortlessly and effectively.
Experts always recommend the use of electrical components from reputable brands such as LG, Schneider, ABB, Omron, and Crydom.
    iii.   Screw
It is undoubtedly the most critical component in the entire extrusion line.
Understandably, this refers to a metallic rod with sharp-rounded edges rotating at an extremely high speed inside the extruder.
It mostly helps to drive the materials or plastic beads into a barrel which is conspicuously heated.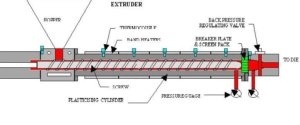 The screw is aligned to the barrel thus making it possible to force the pellets as they form rounded pieces.
Also, it comes in different shapes, designs and sizes also depending on wide-ranging factors.
The most important thing, however, is to realize that this component significantly determines the durability of the whole extrusion line.
Of the available options, you might go for one depending on your ideal needs and abilities of the machine.
For instance, some would be suitable for high production and but have low consumption of power. It thus depends on what you believe suits you.
     iv.   Barrel
This is the component where the actual extrusion of plastic pipes takes place.
It consists of various controlled heater zones which provide heat of differing temperatures depending on the particular settings.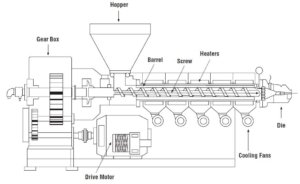 The high temperature in this component allows for the melting of the material as they move inside in a controlled manner.
The essence of this is apparently to prevent any extraordinary cases of overheating which could result to deteriorating quality of polymer material.
High temperatures inside the barrel also emanate from the intense friction and high pressure.
We will look more into it in the working principle of the extruder.
       v.   Driving Motor
A driving motor in a plastic pipe extruder is mostly a device that converts electric power to provide energy for running the machine.
It is responsible for generating sufficient energy for running all the vital operations that this particular machine requires.
Of course the size and capacity of the motor for any extruder varies depending majorly on the size and production volume of the machine.
So the larger the production volume the relatively bigger and higher capacity of the motor the extruder shall need.
And if possible consider seeking advice or recommendation from a professional.
You'll find out that in most cases a driving motor from Siemens is always recommendable.
     vi.  Feed Pipe
This refers to a hollow component that links the screen pack to the die head.
Molten plastic material from the barrel flows through this pipe as they get into the mold for shaping and profiling.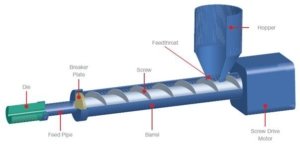 The molten material gets into the die head through the feed pipe gradually as a way of attaining the mold's set profile aptly.
   vii.   Die Head
This part is also known as a mold. It certainly the core part of the extrusion line for plastic pipes as it significantly determines the quality of the final product.
Of essence, the die head is what provides the end product with its profile hence enabling the molten plastic to flow and form necessary shape.
A die head can help to form a wide range of shapes by restricting the molten profile to continuous profiles.
In most instances, the die heads are often customized depending on the shape of the finished component.
For that reason, you may need quite some necessary lead time before beginning the actual process of extrusion.
 viii.   Vacuum Calibration Tank
This particular component is responsible for processing plastic profiles depending on the flexibility or rigidity of the materials.
In some instances, you may refer to it as profile calibration tank, and it's available in different manifolds and cooling options.
Ideally, a suitable vacuum calibration tank enhances the appearance of the end product in a significant way.
The sets of vacuum tanks you'll require is dependent on the type of machine and the diameter of the kind of pipe that you're producing.
     ix.   Water Cooling Tank
The role of cooling tanks is to reduce the temperature of the pipe further even after it goes through the vacuum calibration tank.
Typically, the pipe is often extremely hot once it gets out of the die and that's why you'll need a cooling tank to cool down the tube.

However, you should also note just like in vacuum calibration tank, the diameter size of the pipe is what determines the need of this component.
For instance, when producing PVC pipes with diameter size ranging from 20 to 200 mm, it'd be unnecessary to have a cooling tank.
But if you're producing one with over 200mm diameter size, then the presence of cooling tanks becomes important.
       x.   Haul—off Unit
It refers to the device which necessarily pulls the pipe as it moves forward.
This component is essential because it determines the speed of pipes going through it hence affecting overall production.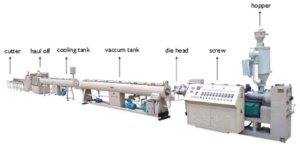 It is available in different models which are primarily sorted by the quantity of the caterpillar.
     xi.   Feed Throat
It refers to an opening that joins the hopper and the barrel which typically allows the material to get into contact with rotating screw.
It is an essential component since it makes it possible for you to determine the number of materials getting into the extruder.
So you can also adjust it to meet the specific needs specifically the volume of granules or pellets.
The feed throat also plays the role of introducing the material to the initial stage of plastic pipe extrusion.
   xii.   Breaker Plate
This refers to a relatively thick metallic puck that contains several holes perforated through it. At times you may also refer to it as a screen pack.
It equally plays an integral role in creating back pressure inside the barrel. As you'll find out later on, back pressure is vital in providing homogenous melting and appropriate mixing of the polymer.
The breaker plate assembly is also what determines the volume of pressure that is generated within the barrel.
 xiii.   Stacker
This is the part of this machine that collects the pipes upon completing the process.
It is located at the end of the machine, and it is open to allow for further cooling and easy collection of the finished products.
So basically, these are the main parts and components of an ordinary plastic pipe extruder that you'll always come across when operating it.
However, this instrument also has some other parts that also play substantive roles in the overall operation of pipe production.
And now that you've known all the key parts let's now change tune and focus on the working principle of this machine.
Working Principle of Plastic Pipe Extrusion Machine
The truth is that understanding how these equipment works give you leverage in determining a wide range of factors, including efficiency.
And now that you've known some of the essential parts and components, it becomes even easier to comprehend how it works.
So primarily, the working principle of this machine in this case merely refers to the extrusion process.

So let me take you through a step-by-step process for easier comprehension;
It begins with feeding the resin, raw thermoplastic materials or pellets on the hopper into the barrel via the force of gravity.
At this point, you can choose to add the appropriate additives such as UV inhibitors as well as colorants. These additives can be in the form of liquid or semi-solid depending on the type of pipe you're extruding.
The essence of adding additives is to create unique applications.
Now what happens next is that force of gravity pulls the materials deeper into the extruder via the feed throat.
At this phase, the material comes into direct contact with the screw just from the rear end of the barrel.
And since the screw is rotating at extremely high speed, it forces the raw material to forward into a heated barrel.
In this instance, the barrel has already attained high temperatures ideal for melting the resin depending on its nature.
And so the resin melts gradually as it continues to move forward through the barrel.
When the material melts in entirety, it leaves the screw at the front of the barrel.
At the same time, the molten resin travels via a strengthened screen pack to get rid of any present contaminants.
Incidentally, the essence of a breaker plate, in this case, is to reinforce the screens since the pressure here can be incredibly intense.
After passing the breaker plate, the molten material then flows into the die head, commonly known as the mold.
As you now know, the die head is what determines the profile or shape of the ultimate product.
Therefore, its design has to factor in even flow of molten plastic from a cylindrical profile to that of the product.
In case uneven flow occurs at this phase, it would be detrimental because since it can cause unnecessary stress at some points in profile.
And the result of this effect is a possible warping of when finally the pipe cools down.
Again have it mind that you can create a pipe product of any shape as long as it is a continuous profile.
The next stage now is cooling of the product. This is often attainable by pulling the extrudate through a water tank.
Apparently, plastic is generally a superb thermal insulator hence can take quite long to cool down.
You may not believe this, but the truth is that plastics conducts heat approximately 2000 times slower than steel.
So an extrusion machine has a suitably integrated cooling system and a vacuum calibration unit that facilitates quicker cooling of pipes.
These systems also prevent the newly molten pipes or tubes from collapsing.
There is also a set of cooling rollers which play a key role in the sheet extr