PVC Profile Extrusion Line
| | |
| --- | --- |
| Contactor in extruder |  Schneider brand |
| Motor in Extruder |  Siemens AC motor |
| Temperature Controller |  Omron brand |
| Inverter to protect driving motor |  ABB brand |
| Screw and barrel | Bi-metallic |
| Heater |  Cast Aluminum heater with SS cover |
| Gearbox | Guomao brand |
| Cooling tank | 10meters |
Your Best Choice for PS Photo Frame Extrusion Machine Manufacturer in China
BENK PS photo frame extrusion machine also named PS picture frame production line which is used to make different shape PS frame, and it is also belongs to one of plastic profile extrusion line, but it is consist by two single screw extruder co-extruding.
PS photo frame extrusion machine is made by SJ90/28 and SJ45/25 single screw extruding machine, so there are two layers in the final PS photo frames, the inner is foamed PS, and outer layer is not foamed.
PS photo frame extrusion machine whole line has single screw extruder, ps frame mold, 10 meters cooling tank, two belt haul-off, cutter, embossing machine and stacker,
BENK PS photo frame production line has high quality and stable working condition, as benk always use the top parts in the machine, such Siemens motor, ABB inverter, bi-metallic screw and barrel, stainless steel 304 for cooking tank, ABB driver for haul-off, mistibursih PLC.
BENK PS photo frame extrusion machine can be customized for your size of PS photo frame sample, welcome to send us more pictures. Benk will supply the right offer for soon.
Data Sheet
Videos
Image gallery
Send Enquiry
| | | | | |
| --- | --- | --- | --- | --- |
| Model | Extruder | Production line speed | Production line power (KW) | Appearance size (mm) |
| PS90 | SJ90/28, SJ45/45 | 1-5m/min | 80 | 36000×1700×2500 |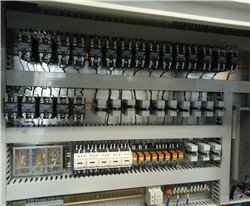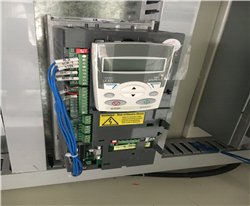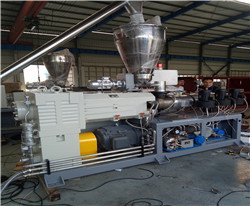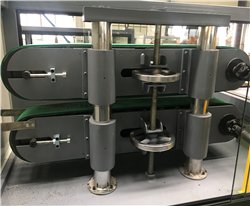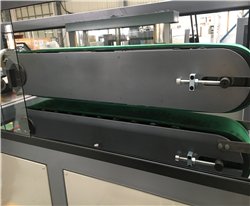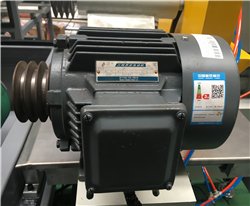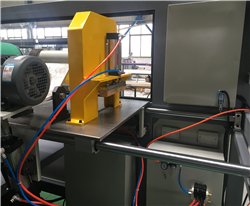 PS Photo Frame Extrusion Machine: The Ultimate Importers Guide
It's easy to import a PS photo frame extrusion machine from China. You only need to find a trusted supplier.
A company that has experience. One that incorporates the best and latest technology to give you a competitive edge.
A PS frame extrusion line supplier who can educate you about the line, before asking you to commit.
Well, BENK Machinery fits the bill. And we wrote this article to share our knowledge on the PS photo frame production line.
We hope to help you understand:
What is a PS photo frame and applications?
PS foam frame raw materials
Components of the PS photo frame extrusion machine
How the PS photo frame making line works
The procedure of importing a machine from overseas
And more!
Say goodbye to low-quality manufacturers, low-output lines, and difficult sales processes.
Chapter 1: Introduction to PS Photo Frames
1.1.         What are PS Photo Frames?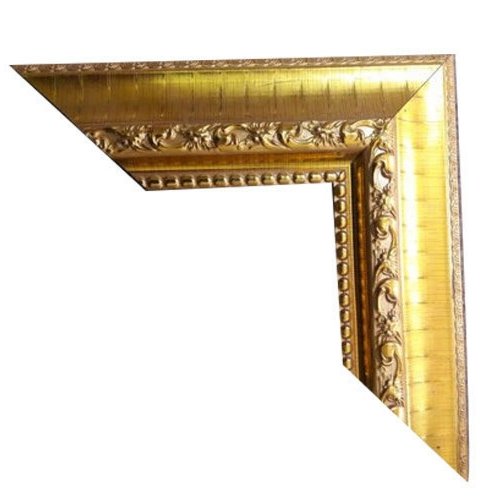 PS photo picture frame
It is a decorative edging manufactured from PS (polystyrene).
The frame performs several functions including; enhancing the painting's or photograph's appearance, drawing attention to it, displaying and protecting it.
PS foam photo frames are also called imitation wood frames.
If you're wondering how to start a complete PS picture frame company, you'll also need to know other parts of the picture frame:
The frame – decorative edge that can be made from metal, wood, or plastic
Glazing unit – that offers protection from dust, dirt and moisture. You can either use glass or acrylic.
Mounting board – for attaching the photo and keeping it in place within the frame.
Protective layer – it is mounted behind the picture frame with tape. The protective layer offers added protection from temperature changes.
What do customers look for in a picture frame?
First is its design, of which, there are two main categories: contemporary and vintage/ classic.
What is the difference between them?
Vintage frames adopt design aspects popularized in prior periods of time like the 19th century. They are embellished with flowers, pearls, ornaments, carving etc.
Classical ornate photo frame
Modern or contemporary designs are simplistic. They have plain lines and patterns.
1.2.        Other uses of the PS Photo frames
The advantage of buying a PS photo frame making line is that you can produce other types of profiles including:
Polystyrene Foamed Skirting Profile: It is utilized in interior decoration as a baseboard to cover the gap between the wall and floor.
Mirror frame: The PS foam frame can act as an excellent item to hold mirrors even in bathrooms since it's waterproof. And it will also enhance the mirror's aesthetics in addition to protecting it.
A framed mirror
Polystyrene Foamed Decoration Profiles:  PS foam frames can make excellent crown cornice, which forms a transition between the wall and ceiling. So the line can also serve as a Plastic PS indoor decoration profile machine.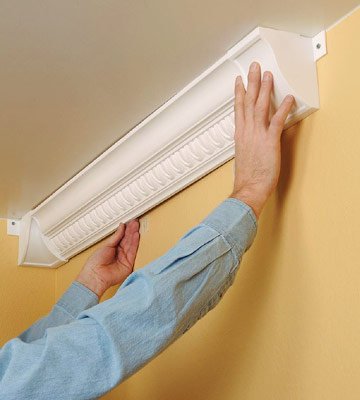 Installation of a plastic crown moulding
1.3.        PS Photo Frame Raw Materials
Before we talk about the PS form extrusion machine, let's start by looking at the raw materials required:
To lower costs, most PS photo frame companies use recycled PS or PVC while mixing it together with additional additives such as:
High Impact Polystyrene (HIPS)
Expandable Polystyrene (EPS)
Foaming additives
DOP – a plasticizer used to increase the flexibility of the product
TiO2 – Titanium dioxide is used as a white pigment, and it increases the frame's resistance to UV sun rays.
High Impact Polystyrene
1.4.        What is foam extrusion?
Let me introduce you to foam extrusion to better help you understand the PS foam moulding making machine.
So what is it?
Simply, it is a widely used process of creating structural foam. In this process, we create two main layers; an inner foamed core and an outer solid crust.
Structural foam cross-section showing foamed layer and outer crust source
Think of it like a sandwich. The inside layer has a mass of small air bubbles making it sponge-like. And the outer layer is completely solid.
Why is this method used to make PS photo frames?
First, it doesn't sacrifice the strength and overall stiffness of the profile.
Instead, it makes the part both light-weight and flexible. Structural foam parts don't warp or deform easily.
What's more:
They are highly moldable. You'll come to see why this is important when we look at the embossing process in chapter 2.
The foam extrusion process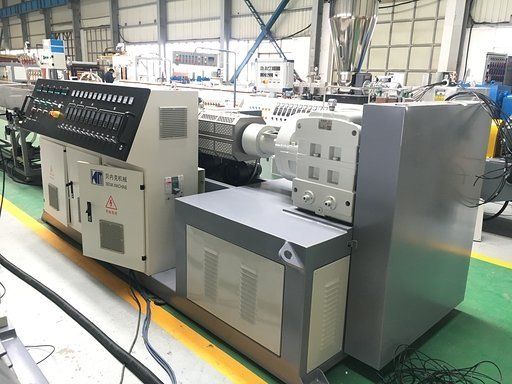 Benk PS photo frame extruder
Foam extrusion is similar to the normal extrusion process with one special difference:
A chemical blowing agent is added to the raw material recipe. During extrusion, a gas forms within the polymer melt as chemical reactions occur.
This gas (such as carbon dioxide or nitrogen) forms during the metering section of the extruder. But pressure inside the barrel keeps the gas compressed within the melt.
But as the molten polymer exits the die, there is a sudden pressure drop.
There is no more pressure acting on the melt. So the gas escapes. This creates small holes in the profile i.e. the porous foam structure.
We adopt this special process in our PS photo frame making machine. It will save you production costs while still giving you high-quality products.
Chapter 2: PS Photo Frame Extrusion Machine – all you need to know
In this chapter, I'll introduce you to the PS photo frame making equipment. At first, it looks really complicated, but I assure you it is easy to understand.
2.1             QUOTATION OF PS FOAM PHOTO FRAME MAKING MACHINE
The following quotation gives a run-down of the equipment you'll need when you request a quote for the PS foam extrusion machine.
| | | |
| --- | --- | --- |
| No. | Name | Qty. |
| 1 | SJ90/28 Single screw plastic extruder | 1set |
| 2 | SJ45/25 Single screw plastic extruder | 1set |
| 3 | 10m Water Cooling tank | 1set |
| 4 |   Haul-off machine | 1set |
| 5 | Cutter | 1set |
| 6 | Stacker | 1set |
| 7 | Hot stamping machine | 8sets |
| 8 | Embossing machine | 2sets |
| 9 | Mould | 1set |
| | | |
2.1.1               Auto Feeding Machine
The first required machine in the PS foam photo frame line is the auto feeding machine.
Its role is to convey the raw materials into the hopper of the extruder.
We use an automatic screw loader with its contact part (surfaces that come into contact with raw materials) made from stainless steel.
The discharge hole – where the materials flow out from – can be customized based on your needs.
The screw loader's tank has a capacity of 200kg meaning that it can hold lots of material. Coupled with its automatic feeding mechanism, this can save you labor.
It's also fitted with a feeding motor and vibrating motor.
Great, let's move on…
Plastic PS moulding extruder machines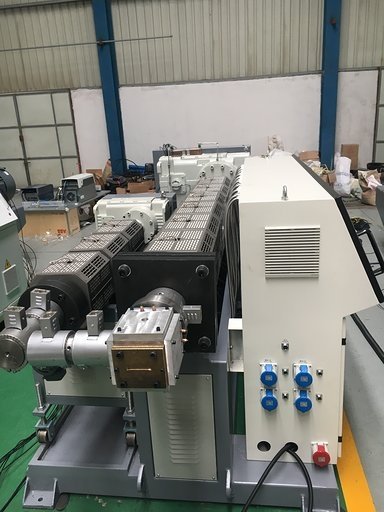 PS photo frame main and side extruders
To recap, we need two layers in our PS photo frames: The inside structural foam layer, and outer crust (non-foamed & solid layer).
To achieve this, you require two extruders co-extruding:
The main extruder – creates the inner foamed layer. The raw material fed into it includes foaming additives. Our recommended main extruder is the SJ90/28 single-screw.
Side extruder – makes the outer crust. The outer PS layer must be solid so there are no foaming additives in the formula. We supply the SJ 45/25 single-screw as the side-extruder.
What should you look out for when purchasing an extruder?
Well, there are several things to consider including the screws' diameter and rotating speed The extruder's output in kg/hr.
Method of heating and cooling, of which, we use aluminum cast heaters and air cooling using fans mounted on the barrel.
Since the extruder's screw and barrel are constantly in contact with hot polymer and subject to corrosive action, they are wearable. So it is essential to use a long-lasting material.
Extruder control panel showing stop button
We use 38CrMoAlA alloy steel that has undergone the gas nitriding process. This treatment creates a nitrided layer of 0.4mm to 0.8mm with a surface hardness of HV≥900.
For the temperature controllers, we install those from the ORMON brand. Other components include a Schneider thermal overload relay, ABB motor frequency controller, Siemens/WEG motor, SKF bearing, and hard-toothed gearbox.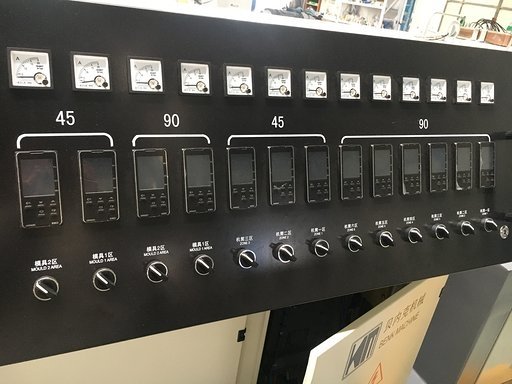 Extruder control panel showing Omron temperature controller panels
What's more, the main screw extruder adopts a slotted barrel and specialized PS foaming screw. It is specialized in that it has the right L/D ratio to give the gas enough time to disperse inside the polymer.
You can learn more about the single screw extruder here.
2.1.3              PS co-extrusion mould head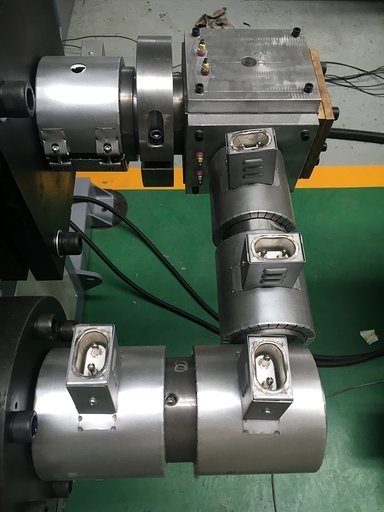 Co-extrusion die head
The co-extrusion die head gives the PS photo frame its general shape.
It requires a lot of expertise to come up a die head design that ensures uniform flow, mitigates any die swelling, and more.
We design our die heads based on complex flow simulations. And also by relying on our extensive extrusion experience.
PS photo frame co-extrusion shaping die showing die exit
The die head also adopts custom aluminum heater plates and has a mirror-polished inner surface.
Our dies are also easy to adjust and interchange when making different profile designs.
Some components of the die such as pins require to be re-polished or replaced after a specific period of use. We can provide on-going support and help in die maintenance or replacement.
2.1.4              Mould for PS foam picture frame
As the extrudate leaves the die head, it's drawn into the mold. The mould is responsible for refining the PS photo frame's dimensions and shape.
The mould is usually mounted at the upstream end of the water tank. Inside the mould, there are water channels through which chilled water is circulated.
This helps the hot extrudate cool and solidify. But this is just the start of the cooling process, which continues in the cooling tank.
2.1.5              Water cooling tank
Easily adjustable water cooling tank
The water cooling tank is 10-12 meters long. And just before the mould is a photoelectric speed sensor that is used to accurately measure the line's speed.
The rest of the water tank has rails that keep the profile submerged under water. It is also easy to adjust up & down, or front & back thanks to its 3-axis movement.
Why is it so long? Keep in mind that we are cooling two layers.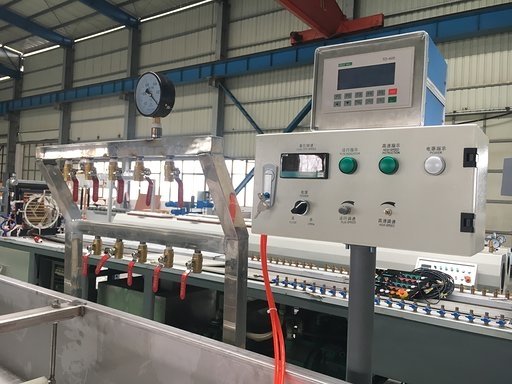 Water tank control panel with high speed option
We use 304 stainless steel for its construction since it's always in contact with water.
There is a temperature measurement device that allows you to monitor the water's temperature.
Figure 15: 10 meter PS photo frame water tank
2.1.6              Surface hot stamping
So what is surface hot stamping?
It is the process of transferring a coated layer of pigments onto the surface of a foamed profile.
And what is a hot stamping foil?
Plain and golden hot stamping foil
A foil consists of three layers:
Clear film – that acts as a carrier layer that holds the pigment layer.
Main pigment layer – this contains the color pigments.
Release coating – it is a layer that contains a heat activated glue, which bonds the color pigment sediments to the surface of the PS frame.
You can find numerous types of foils on the market with finishes such as glossy foils, matte pigment foils, metallic foils with gold & aluminum pigments, foils with effects such as wood grains, stone, stripes, etc.
And how does a hot stamping machine work?
Hot stamping & embossing machines
The machine uses pressure to force down the foil against the surface of the PS foam frame. And a heated metal die to activate the heat sealing process.
Parts of the hot stamping machine usually include the unwinding shaft, handle wheel to adjust stamping angle, piston rod cylinder, heated die, etc.
Our PS photo hot stamping machine can work with frames of widths 20-200mm with a stamping thickness of 5mm-100mm.
There are about 6-8 sets of hot stamping machines in the PS photo frame production line. They work together to properly transfer foil pigment to the frame.
You can learn more about the PS foam hot stamping machine by contacting us.
2.1.7              Surface embossing machine
The number of surface embossing machines in the PS foam production line are just two.
But what is surface embossing?
It is the process of creating impressions of different designs and patterns on the surface of the PS foam profile.
Embossing wheel
Embossing is done after hot stamping and when the PS frame has sufficiently cooled and hardened.
When we talked about foaming extrusion, one of the advantages we noted was that structural form is easily malleable.
By using different embossing wheel designs, you can create impressions of flowers, pearls, and other ornaments.
What's more, embossing wheels are not that expensive costing about $50 to $100 per piece.
2.1.8             Belt Haul-off machine
The belt haul-off machine is also called the twin-belt caterpillar haul-off or the puller.
It consists of two belt tracks (claws). The lower belt is fixed but the upper belt can be lifted or lowered to accommodate different PS foam frame sizes.
Belt haul-off height adjusters
The challenge each belt haul-off machine must overcome is providing accurate and consistent pulling.
We have equipped our PS foam photo frame haul-off machine with a number of unique features.
First, it displays the belt's speed in meters per minute (in 0.1-meter increments), and you can adjust the speed on the control panel.
Another unique feature is an Autonics encoder used to measure the length of the profile passing through, and relay this to the PLC, which sends the cutting signal to the cutter.
Separate drive for each belt
The haul-off also adopts AC drive technology, and we can include separate motors & reducers for each belt.
2.1.9              PS foam photo frame cutting machine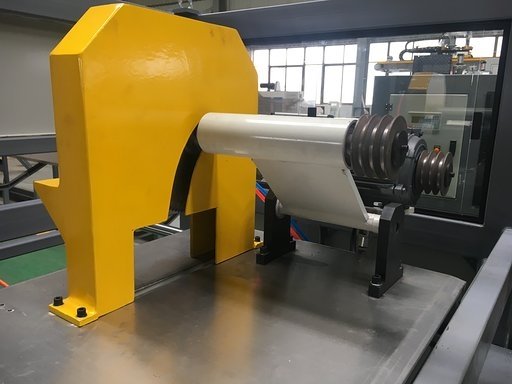 Knife-lift cutting machine
The most commonly used cutter for PS foam frame profiles is a knife-lift cutting machine.
The cutting style is by lifting the cutting saw and pneumatic compression to clearly cut through the material.
The profile cutter works automatically after receiving the arbitrary cutting signal from the encoder.
PS photo frame line lift-cutter
Our cutter has a number of advantages including high automation, excellent cutting quality with smooth finishes and no flashes on the surface.
It is energy efficient and produces less noise, and comes with a durable disc blade.
Siemens Motor for Cutter
And we can fit it with a tempered glass cover and dust-separation device to reduce dust pollution in your factory.
2.1.10         Stacker unit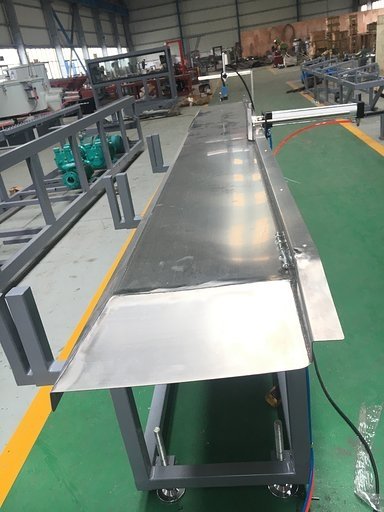 Stainless steel stacking table
It is also called the stacking table, and its role is to take off finished PS foam photo frames from the line. Our stacker works autonomously and relies on pneumatic components.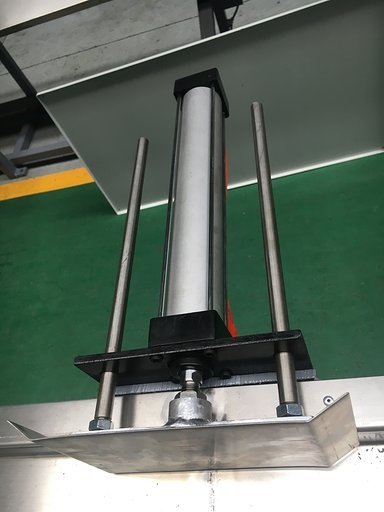 Pneumatic arm for taking off the frames from line
Once the profile is pushed on its platform by the pulling machine; the pneumatic arm is activated to push the finished PS foam frame onto the collecting platform.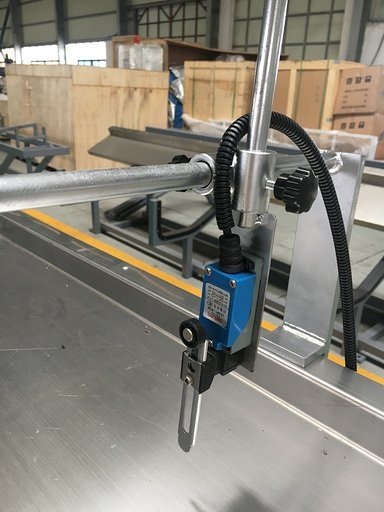 High-quality DELIXI travel, limit-switch for stacking table
2.1.11           Additional (optional) machines
There are other machines that are not part of the main Plastic PS moulding extruder line. Regardless, these auxiliary machines play important roles:
For instance:
Electric foil paper cutting machine – it is a simple piece of equipment consisting of a motor that rotates a rod holding the foil reel. As the reel rotates, a fixed knife is brought upon it. You use it to cut your hot stamping foil based on your photo frame's dimensions.
Silicone wheel grinding machine – this is another optional machine for your line. It is also relatively inexpensive, and you use it to grind silicone wheels for the hot stamping machines as per your PS foam profile shapes. Its main parts include a motor, axis, and dust collector.
High speed hot mixer – Also called the high-speed mixer, it is made up of two mixing tanks. One tank for heating and mixing PVC powder with its additives and the second tank for cooling. We have high-speed mixers with capacities of 150kg to 1200kg/h. High capacity mixers can be used to supply more than one extrusion line at the same time.
2.2         How is the PS foam frame production line operated?
PS photo frame puller showing control panel
The line has a high degree of automation thanks to the adoption of PLC control (Programmable logic control).
You only need up to two operators to man the line during production. In terms of experience, you ideally need one skilled extrusion operator.
The operator duties will include determining the errors and making repairs or adjustments.
Performing tests and inspecting the products. Trouble-shooting the PS foam frame making line.
When you buy the machine, we usually supply all the technical documents including drawings & written operating procedures. Our engineer who comes to install the machine can also train your first-line operator.
2.3         Technical data on PS photo frame production line
| | | | | |
| --- | --- | --- | --- | --- |
| Model | Extruder | Production line speed | Production line power (KW) | Appearance size (mm) |
| PS90 | SJ90/28, SJ45/25 | 1-5m/min | 80 | 36000×1700×2500 |
2.4         So what is the procedure of importing a PS Photo Frame Extrusion Machine?
The importing procedure varies from country to country. But, I'll just present a quick summary, but you can read more on how to import from China, and seek services of licensed importers in your country.
Figure 28: Container ship
Determining if you have import rights.
The importation right is the legal capacity to import a product from a foreign country.
Some countries may have guidelines that govern what can be imported. Or have a licensing system in place.
In Canada, for instance, you'll first require a business number regardless if you're an individual or business.
Identify the goods or make a trade enquiry
This is the step where you send us a quote asking for information about the goods, price, terms, method of delivery, packing, among other details. You can start by sending us a quote right away on our contact form.
We then send a quotation containing the details of the PS foam frame making line.
Validating if the goods can be imported
You ensure that the goods you wish to import will be permitted into your country. In some countries, you may be required to ascertain the countries where the individual parts of the product are from.
You'll also be required to classify your goods. Most countries use the Harmonized System (HS) including China.
Determining the landed cost
In this step, you find out about all the costs you'll incur to get the PS foam making line from our warehouse to your facility. Doing this helps you plan better for all the costs.
Placing the order and selecting the method of shipping.
Once the machine arrives, you may be required to report your goods, get them released, pay duties and other expenses, make adjustments to accounting, etc.
Installing the machine – here we can send our engineer to help you with the installation.
If this process becomes too complex for you to handle, you may seek the services of licensed customs brokers.
They may help you maintain records, prepare and submit all the required documents, pay duties and taxes, and help in releasing of imported goods.
But ultimately, it would be your responsibility to ensure all the procedures have been properly followed.
HS code, traffic code structures
Each component of the photo frame moulding making machine has an HS code.
Simply, it is a tariff classification number used to identify goods across international borders.
So products can be correctly classified the same way in China as they are in Europe.
2.6         What else is required to install the photo frame extrusion line?
We have covered all aspects of importing a new PS photo frame extrusion machine.
You will need a space/warehouse to serve as your production area. Once you start the buying process, we can supply several layout diagrams to help you install the utilities properly.
You'll require the following utilities:
Water – it is preferable to use recycled water to reduce your water consumption. We recommend building a water tank/pool to store water for your plant. In addition, it may need to be chilled and for this, you might need chillers.
Electricity – We'll need to know the type of power specification in your country so we can customize the line based on this; whether it's two phase or three phase.
Compressed gas – this utility is used by the pneumatic components such as the stacker. We can supply information about the pressure requirements and suitable air compressors.
Chapter 3: PS Photo Frames vs. Alternatives
Picture frames have long been made using steel or wood.
But these popular materials are facing stiff competition from PS foam picture frames.
Let's explore the advantages & disadvantages of these materials:
Wood frames: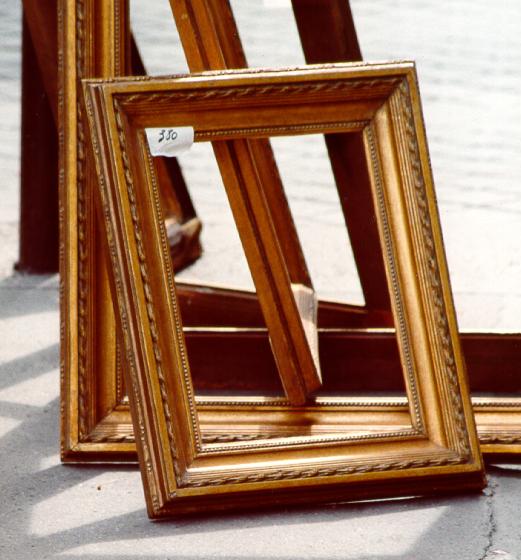 Empty wood frames
Benefits
Can absorb moisture
Easy to paint in different colors
Solid wood is aesthetically pleasing
Disadvantages
Solid wood frames have higher costs
They can't be recycled
Leads to trees being cut down
Can be expensive
May wrap in high humidity and heat
Can be attacked by pests
Requires on-going maintenance
Fragile
Require more effort and specialization to produce
Metal frames: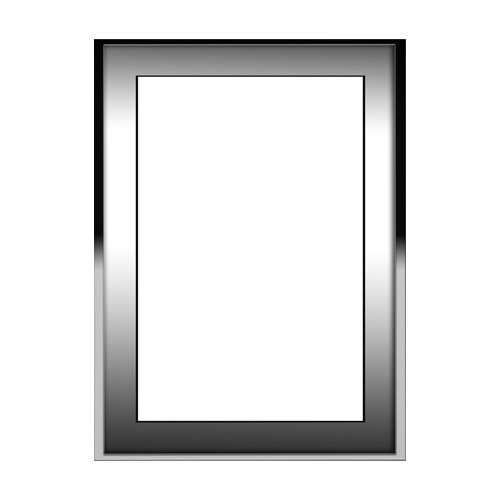 Metal frame for pictures
Benefits
They look chick and modern
There are very durable and with high impact strengths
Treated frames are impervious to moisture or oxidation
They are recyclable
Disadvantages
Most designs on the market don't have a wide spectrum of colors and designs
Aluminum that's used in most metal frames is energy intensive to produce
PS foam plastic frames/imitation wood picture frames
Benefits:
Can imitate elaborate wood frame designs at a fraction of the price
When hung on the wall, it is difficult to differentiate them from wood
Easy to cut or drill
Simple and quick to manufacture
Anti-corrosion
Water-proof and wear resistant
Long life
Environmentally friendly since PS foam framea are made from recycled materials
Suitable for large contract jobs and DIY projects
Light-weight
Disadvantages
Not easy to re-paint the frame to match the room's décor
Color may fade after long periods in direct sunlight
Chapter 4: High-quality photo frame production line for sale
PS photo frame extrusion line price
Each PS EPS picture frame extrusion line is customized based on the client's requirements such as the choice of the extruder, auxiliary equipment etc.
This affects the price, but generally, the PS moulding profile extrusion line's price ranges from $20,000 to $50,000 per set.
Get the lowest price today by requesting a custom quote.
4.2.      Why you'll get great value by choosing BENK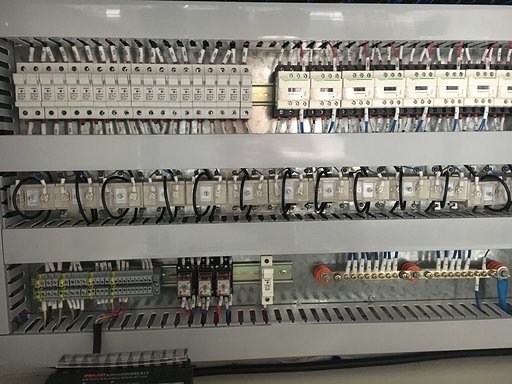 Electrical cabinet for the PS photo frame manufacturing machine
We have had more than 10 years' experience manufacturing custom extrusion lines for our clients.
Our PS foam picture extrusion line is highly autonomous meaningless labor and high-efficiency.
The line has won approval from our past customers for being reliable and stable with continuous production for long periods with no problems.
It is easy and simple to operate.
We have a professional customer care team and technical team ready to solve any machine-related issues via online support.
The PS foam production line undergoes fully functional tests before it is shipped.
ISO and CE certified.
1-year warranty on the PS photo production line.
Finally, we treat all our customers as part of our close-knit family with the relationship extending beyond just business no matter where you hail from.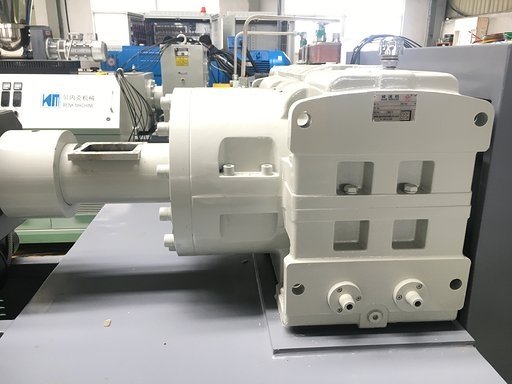 High-quality gear reducer
4.3.      Contact us today
We can communicate both in English and Chinese. And there are several ways to reach us:
Send your email to [email protected]
Call: 0086-512-58901463
WhatsApp: +86-13052271776
You can also visit our factory at:
300m West of Luyuan Over Pass Bridge, Zhangjiagang, Suzhou, Jiangsu, China (Mainland)
Frequently Asked Questions
Are you a trading company or factory?
We're an equipment manufacturing factory, and we make the PS foam moulding making machine on our premises which allow us to strictly control its quality.
What pre-sales services do you offer?
Introduction to the PS photo frame making machine
Recommending a practical and economical line to you
Supplying operation data and technical specifications about the machine
We can help you plan a visit to our factory to see & verify the machine's details
What are your sales services?
We offer the relevant engineering diagrams and documents for the installation of machine
Regular updates about the progress of the machine during manufacture
We help you select the right extruder size and other machine parts
What after sales service?
Onsite technical assistance in installation and training
Long term support service
Free formula support
Free spare parts for the first six months
Help in developing new product lines for your factory