Plastic Profile Extrusion Machine
BENK plastic profile extrusion machine also names plastic profile extrusion machinery, which including PVC ceiling profile extrusion machine, PVC wall panel extrusion equipment, PVC window profile extrusion machine, PVC hollow door board extrusion machine, WPC profile extrusion line.
Benk plastic profile extrusion machine is using the same extruder, it has same extrusion process with plastic tubes, but their downstream extrusion equipment is different, benk is a professional plastic extrusion equipment manufacturer in China, we make big and small extrusion lines which is as per our client's plastic extrusion products.
Our one whole extrusion machine has an extruder, extrusion mold, extrusion puller, extrusion cutter and extrusion stacker, our machines have been sold to many big extrusion companies in the world, and we would like to find the stable agent in the different area.
Plastic profile compared to wood profiles, PVC has more advantages, such as cost is lower, weight is lighter, color and design are more, and service life is longer.
If you need the cost for plastic extrusion plant, we also can supply draft idea to them for checking and thinking. Welcome to inform us your details and requirements, then we will reply you within 24 hours.
Why Big Brand Trust BENK MACHINE
High Speed Output
Production capacity from 50kg/hr to 700kg/hr for single extruder, 110-600kg/hr for conical twin screw extruder
Famous Brand Parts
Simens motor, ABB inventer, OMRON temperature controller, JT GEARBOX, famous brand screw and barrel
Free Formula Support
Our engineer will supply free formula details after buying our machines
Technical Support & Training Service
Our engineer will go to your factory to help you install machine and train your staffs if you need.
Why customer would like to buy our machines
We are not big machine manufactuer in China and not smallest manufactuer in China, so our production cost is much lower than leading machine manufactuers and quality is similar to them and much better than small supplier or trading company.
Our technical team and sales team were worked for big company before, quality and design are same as same, but we want to want promote our brand in the world market,…..
Plastic Profile Extrusion Machine: The Complete Guide for Importers in 2018.
Chapter 1: What is a Plastic Profile Extrusion Machine?
It's a machine that consists of:
Conical twin screw extruder
Down-stream machines
The client's manufacturing needs specify the size of the down-stream machines.
Figure 1: Plastic profile extrusion machine
So, what does a conical twin screw extruder do?
You'll use the conical twin screw extruder for the extrusion process, which involves melting and plasticizing PVC resin with other additives, or wood-plastic with additives.
The extruder has two screws that convey the raw materials through the barrel. It pushes the molten polymer with pressure into the extruding die.
The die has a mold and together with the vacuum table, they form the molten polymer into differently shaped profiles.
Advantages of Plastic profile extrusions
Plastic profile extrusions can be used in many fields, unlike wood profiles. Wood profiles are much heavier and more expensive than PVC profiles
Plastic profiles are also more colorful than wood. You can add the color Master into the raw material, or you can stick a film on the surface of extrusions with different paintings.
Plastic profiles are waterproof, which makes them have a longer service life than wood.
So, you see that plastic extrusions are better for you than wood profile extrusions.
Why do you need Plastic profile extruding machine?
One plastic profile extruding machine can make different plastic extrusion shapes after changing its mold.
The plastic profiles can be cut with the fix lengths. Therefore, there is no need to cut the profile the second time.
The profile extruding machine can work non-stop unless there are some problems with its parts.
It's also easy for you to maintain the profile extruding machine by yourself, even it's the first you're purchasing the machines from us.
Our profile extruding machine can be used for more than 10 years at normal production.
So, if you want to know more about our plastic extrusion machine, send an email to our manager here.
Chapter 2: Plastic Profile Extrusion Machine Parts
2.1 Screw Loader
Figure 2: Screw Loader
Now, we use screw loader as the feeder. We have installed a timing device on the loader so you can set up the loading time and waiting time, then it can operate automatically.
This will save you extra labor costs, because you don't need to hire more people to load the raw material.
The tank can store more than 200kgs of the raw material, which meets the production capacity of extruder.
From the picture, you can see that the tank and pipe are stainless steel 304. This can extend their service life saving you costs in the future.
As per our experience, the screw loader is the best choice for a feeder, as it's better than a spring loader.
2.2 Extruder
Figure 3: Conical twin screw
PVC and WPC profiles all need the conical twin screw extruder. It is the most widely used extruder in plastic extrusion industry as it can plasticize PVC with more calcium content.
When producing the PVC profile, we can add more calcium to your formula. It can save costs for you, but it will reduced the service life of screws.
We have two conical double screw extruder types. However, most of clients go for the SJZ65/132 extruder, as it can produce big or small profiles in one plastic profile extruding equipment.
2.3 Vacuum table
Figure 4: 8-meters length vacuum table
The vacuum table plays an important role in forming process in the production line. Its working principle involves using cooling water with the forming mold to reduce temperature of formed profiles.
The vacuum table is usually 4-6meters long with different profiles. Sometimes, we also can make it up to 9 meters to speed up the production speed, or for complex size profiles, such as window profiles.
We will install water pump and vacuum pump as well as driving motor under the table. The power of pump will be determined by the size of your profiles. Usually, we will use a 4kw vacuum pump.
2.4 Haul-off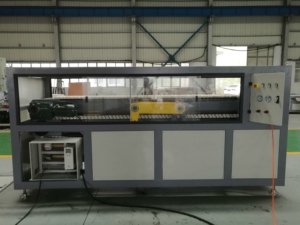 Figure 5: Haul-off
The haul-off consists of the chain, rubber block, driving motor and cylinder. It's used to track the profiles that come out of the mold.
We will choose the size of rubber blocks as per the sizes of your profile. The smallest width of the rubber block is 300mm.
And the biggest width the haul-off can reach is 1000mm for door boards.
2.5 Cutter
Figure 6: Cutter
The lift cutter cuts the profile into the required sizes. We use a photoelectric sensor and autonomous meters to measure the profile's length before cutting. So it is very accurate.
Normally, we use a 400mm blade in the cutter and blade is made of alloy steel.
2.6 Stacker
The stacker is used to collect the finished plastic profiles. And the unload signal is sent by meters. We use iron, cylinder and steel to make the stacker.
Chapter 3: Working Principle of Plastic Profile Extrusion Machine
There are three variants of the plastic profile extrusion machine:
PVC profiles
Wood-PVC profiles
Wood-PE profiles
The working principle of PVC profiles and wood-PVC profiles are the same. We only need the mixer to mix the PVC resin with other additives or wood-plastic and other additives.
Figure 7: Mixer
The mixer pictured above is a hot and cool mixer. We have different capacities of the high speed mixer. We will choose the most suitable one for you, after we know your details.
Note that for PVC profiles & Wood-PVC profile we put PVC powder or PVC-wood powder into the extruder for making profiles.
But for PE-wood profile, the principle is different. We need to make pellets for you after mixing, so you need buy a parallel twin screw appetizing line.
Figure 8: PE-wood appetizing line
After mixing or appetizing, their working principle is the same; using a conical twin screw extruder to melt and plasticizing the material and die for forming.
The die is designed according to the shape of your profiles. We also will adjust the size of machines as per your profiles.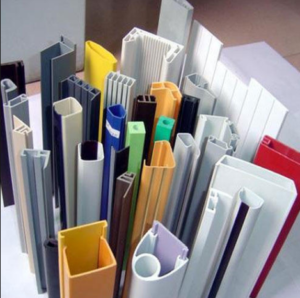 Figure 9: PVC profiles
Be it PVC profile, PE-wood profiles or PVC-wood profiles, we will supply the formulation for them. Our engineer will also teach your staff how to mix the raw materials and their processing temperatures.
Chapter 4: Classification of Plastic Profile Extrusion Machines
4.1 Types of plastic profile extrusion machine
4.1.1 PVC window and door profile extrusion line
Figure 10: PVC window and door profile extrusion line
PVC window and door profiles are made using PVC resin, caco3 and other additives. The window and door profiles are used to make PVC doors and PVC windows.
Usually, PVC doors are used for kitchen or bathroom doors. The most popular sizes are 60 and 80 series.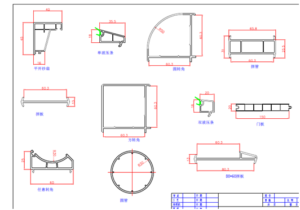 Figure 11: 60series window and door profiles
As there are many molds in one set window profile, we always suggest to our clients to buy the 4-5 plastic profile production line from us. For instance, two cm65 extrusion line, cm55 extrusion line and cm51 extrusion line.
Compared to aluminum window profile, PVC window profile is cheaper and more economical and easy to assemble.
Note that our PVC and window profile extrusion line is used to make profiles. If you want to make the PVC windows by yourself, you'll also need the auxiliary machines for treating and assembling the profiles.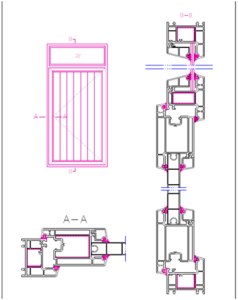 Figure 12: Assemble drawing for window profiles.
4.1.1.1 Type of window profiles:
Coated co extrusion
It is made by two extrudate co extruding. We can use the ASA/PMMA on the outside layer of the profiles to extend its working life.
Another benefit is that you can change the color of profiles. The disadvantage is that you need to invest more for machines and raw material.
Two colors co extrusion
It is similar to coated co extrusion made by co-extrusion.
Rubber strip co extrusion
The rubber strip will clamp the glass and protect it. Window profiles always have it, and we only need SJ25/25 or SJ30/25 single screw extruder co-extruding with conical twin screw extruder.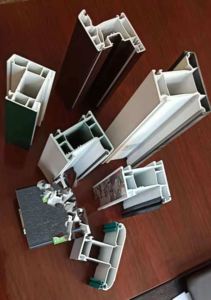 Figure 13: Different types of window profiles
Door profile:
You'll need several door profiles to a assemble a door. But the door profile is very easy to make.
PVC doors are used indoors for instance as kitchen doors or washroom doors.
Figure 14: Door profile
Sometimes, a client may want to laminate the colorful film on the surface of PVC window and door profile.
But almost all of our clients prefer to make white colored PVC window and door profiles without lamination.
When you are making the profiles, you can stamp your logo on the surface of the profiles.
If you want to learn how to install the PVC window profile in your home, you can learn from the following video:
PVC door board production line
Figure 15: PVC door board production line
A PVC door board is hollow and has a thickness of around 40mm. You can use the PVC door board production line to make PVC doors or PVC-wood doors.
The widths for the door are 600mm, 800mm and 1000mm. But you also can customize the width of your door by yourself.
Figure 16:  Door board extrusion die
Is there any difference between PVC door and PVC-wood?
Yes…
The different between PVC door and PVC-wood door lies in the raw material's receipt.
For the PVC door you will need PVC, caco3 and other additives. While PVC-wood has one more additive which is wood powder.
Most of our clients choose PVC-wood, as the door can be used for as the main door after lamination, and its production cost is a little cheaper.
If you have any problems concerning your PVC door board extruding machine or the formulation of PVC door board, please contact our engineer for assistance.
Figure 17 Finished products
Usually, the PVC door board is used as the kitchen door or washroom door. But the PVC-wood door can also serve as the bedroom door.
Anyway, the hollow door board is the middle part of the door. So what do you need to make the whole door?
You need a PVC-wood door frame and the door cover. If you also want to make these two products you can read on:
PVC door frame production line
PVC door frame production line is same as the PVC window and door profile production line. Usually we will use the cm65 extruder to make the door frame and the width of vacuum table is 240-300mm.
Figure 18: PVC door frame drawing
The door frame is matched to the door. But, you also can design the door frame by yourself.
Sometimes, we need to make a special rubber block haul-off for the door frame.
If you have the drawing for your door frame, please send it to us, then we can make an accurate offer accordingly.
In addition, we also need to add the vacuum pump and water pump according to the drawing of your door frame.
Figure 19 Finished door frame
PVC ceiling production line
Figure 20: PVC ceiling panel production line
PVC ceiling production line is similar to PVC window and door board production line, but it is shorter and simpler.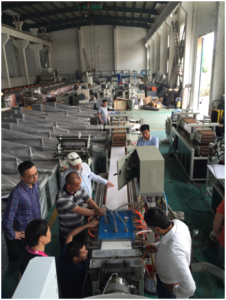 Figure 21: PVC ceiling testing in our workshop
The vacuum table need is only 1.5-2 meters, and the length of haul-off is 1.5 meters. The cutter is also very simple.
Since the thickness of PVC ceiling is very thin, it cools down very quickly after forming.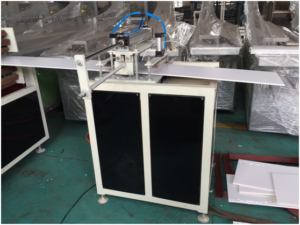 Figure 22: Cutter for PVC ceiling making machine
It's also very light and easy to install on the indoor roof. To learn how to install PVC ceiling, you can check the following video.
PVC wall panel production line
PVC wall panel production line is used to make wall panel. You should note that are are two types of wall panels:
Wood-PVC wall panel
Stone Plasticine wall panel.
1.     Wood-PVC wall panel extrusion line
Wood-PVC wall panel has a square hollow profile and it's thicker than the PVC marble wall panel.
The raw materials used include wood, PVC resin, calco3 and other additives. But the percentage of caco3 is not much.
Figure 23: PVC-wood wall panel
Note also, that PVC-wood wall panel has a little foam in the formulation. So it weighs less than the PVC marble wall panel.
Usually, the width of wall panel is 300mm, 400mm or 600mm with a 7-9mm height, and the thickness of wall is 0.7-1mm.
When you want to make a wall panel with a 300mm width, you only need a CM65 extruder and 300mm vacuum table.
When you want to manufacture a 600mm width wall panel, you need a larger extruder, which is the CM80 and a 600mm vacuum table.
To give buyers more choices, you can laminate the surface of the wall panel with different colors or film patterns.
2.     Stone-plastic wall panel
The stone plastic wall panel extrusion line is similar to the wood-PVC wall panel extruding line. The only difference is with the formulation.
See, the formulation for the stone wall panel requires 200% more caco3 content. This makes the stone plastic wall panel heavier than the wood-PVC wall panel.
It can have round or square holes. Though, most clients go for round.
Figure 24: Stone plastic wall panel
You also can stamp colorful and assorted patterns on the surface of stone plastic wall panel.
When you want to put the film on the surface, you only need to add a lamination machine in the stone plastic wall panel production line.
Note that the stone plastic is much cheaper than wood-PVC wall panel, as you add more caco3 in the formulation, which saves production costs.
The widths of the stone plastic wall panel are 300mm, 400mm, 500mm and 600mm, 7-9mm height, and the wall thickness is 0.7-1mm.
In our experience, most clients prefer to manufacture wood-PVC wall panels. But it also depends on your clients' preferences.
PVC electric conduit production line
The PVC electric duct production line is used to make electric duct profiles, which are used as conduits for electric wires.
Here is a video for the small electric wire duct production line.
Wire ducts are mostly used in the house. But if you want, you can make a big sized ducts used in electrical cabinets.
Figure 25: Electrical wire duct for cabinet
You also need the punching machine. It punches holes in the profiles, and it's offline.
If you are looking for machines to manufacture wire ducts, you can contact Benk Machinery.
PVC decorating profile production line
The PVC decoration profile production line can make different profiles such as:
Foot line
Wall corner profile
Corner bead
You can check out the profiles in the picture below. Maybe, you will find the one you need.
Figure 26: PVC decoration profiles
To make the PVC profiles pictured above, we can use the CM51 or CM55 PVC profile making machine.
Some clients will call the PVC profile line the "UPVC profiles extrusion line," as the kind of PVC raw material used is UPVC.
All the decoration profiles will be coated with PVC film. You will find many different film designs to choose from. But we can also recommend a film manufacturer in China for you.
WPC profile production line
WPC machines are used to make WPC profiles. And they are two types of WPC profiles:
Wood-PE
Wood-PVC profiles
So, are they different? Yes, wood-PE profiles are used for outdoor applications, while wood-PVC profiles are for indoor use.
Actually, we have mentioned a lot of wood-PVC profile machines, such as the wall panel extrusion line, decoration profiles and so on.
Here, we will talk about the wood-PE profile extruding machines.
So, the PE-wood profile extrusion line is different from the PVC-wood profile extrusion line as the PE-wood profile extrusion machine does not need the haul-off in the production line.
The PE-wood profile extruding line can make PE-wood flooring, fences, pillars and so on.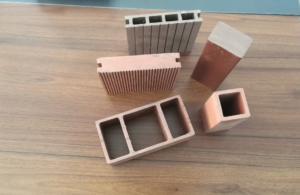 Figure 27: PE-wood profiles
The PE-wood profiles can be used in gardens, pavilions or swimming pools for flooring or fencing.
You can check the following pictures to see the final products made by PE-wood profiles.
Figure 28: PE-wood for floor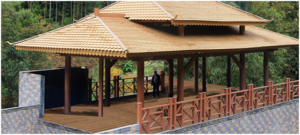 Figure 29: PE-wood pavilion in a garden and tourist attraction
When you want to make the PE-wood profiles, you can buy the PE-wood pellets from China, and buy the WPC production line from us.
But if you want to make the PE-wood pellets by yourself, you also need to buy a parallel twin screw pelletizing line which is used to make PE-wood pellets.
Besides this, you will also need two auxiliary machines to treat the PE-wood profiles:
Sanding machines
Embossing machines
Sanding machines are used to sand the surface of the PE-wood floor to make it rough, which improves friction.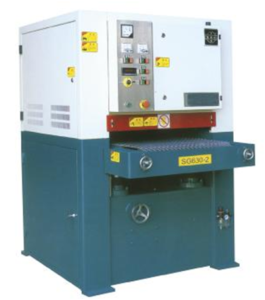 Figure 30: Sanding machine for PE-wood floor
The embossing machine is used to make wood patterns on the surface on the PE-wood profiles. After embossing, the profiles will look like real wood.
Figure 31 Embossing machine
Chapter 5: How to choose right profile extrusion machine for your extrusions?
After learning about all kinds of plastic profile machines, I am sure you have some ideas on how to make your products.
You can also send us the pictures or drawing of your profiles. Then let us know your raw materials. Benk machine will give you professional suggestions based on these specifications.
But to be honest, it is very difficult to learn every detail about the machines and it might take you a long time to do so. Therefore, you need to find a reliable and trustworthy manufacturer in China like Benk Machinery.
From our experience, you only need to know the sizes of the extruder for your extrusions, the electrical parts with the brand names, motor power and so on.
After choosing the right plastic profile making line, your staff will also need to learn how to improve the output of extrusions, and how to improve the profile process and so on.
Chapter 6: What auxiliary machines you need for your extrusions?
The auxiliary machines for the plastic profile extrusion machine are mainly the hot-cool mixer, crusher and pulverizer.
The mixer has a hot and cool pot inside. The hot pot is used to pre-heat the raw materials and mix the raw materials evenly. The cool pot is used to cool down the temperature of raw materials.
Crusher and pulverizer are used to recycle the waste plastic profiles in order to reduce the waste as much as possible. The recycled materials can be mixed into the raw materials to make new profiles.
Chapter 7: Technical Specifications of Plastic profile Extrusion Machine
Size of extruder for different size extrusions
0-300mm width plastic profiles
cm51 cm55or cm65 extruder
300-600mm width wall panels
cm65 or cm80 extruder
600-100mm width door board
Cm80 or cm92 extruder
PE-wood profiles
Cm65 extruder
We only can supply the draft ideas for your reference, the final specifications can only be confirmed after knowing your profiles.
Length of vacuum table and vacuum and water pump
Small plastic decoration profiles
4meters table, 2 vacuum and 1 water pump
Door board and wall panel
6meters table, 3vacuum and 2 water pump
Window profiles
8meters table, 4 vacuum and 2 water pump
You can aalso send us plastic profiles samples you want to manufacture and we will deliver a professional proposal to you.
When your plastic profile consists of two materials, we will use the co-extrusion for your plastic extrusions.
The most important thing in plastic extrusion is the formulations and every extrusions manufacturer has their special receipt after several years of production experience.
When you are in the plastic profiles industry, you also need to try and test your new formulation and find the best and economic formulation in your market.
Our engineer always supplies the formulation so as you can make the profiles. But we don't have a lot of time to test every formulation. Remember, the characteristics of raw material are different in each country.
You can buy the mixed raw materials in your market, but you might not get competitive prices. But in this case, we always suggest to the client to find the best way for themselves.
Chapter 8: Benk Plastic Profile Extrusion Machines
BENK machine is always here to solve your plastic extrusion problems. Currently, BENK machine makes more than 20 sets of plastic profile extruding machines for oversea clients every year.
Fast delivery:
We can supply the plastic profile extruding machines to our clients within 30 working days. If we have the machines ready in stock, we can ship them to you as fast as possible.
Fully after-sale support:
Benk has 2-3 engineers working for our oversea clients whenever they meet any technical or equipment problems. We can arrange for them to support you online. And if they can't solve the problem online, we will arrange air tickets for them to travel to your factory.
Quality guarantee:
We have stable suppliers and we use the best spare parts in our machines in order to reduce problems in our machines during production.
Long-time warranty:
You get a 13-month warranty for electrical parts and a half year for spare parts. This will also save you costs.
Famous reputation:
BENK machinery cares about its reputation. We have never received any claims from our clients in last 10 years. We always try to find the best solutions for our clients, as we consider clients part of our big family.