HDPE Extruder Machine
| | |
| --- | --- |
| Contactor |  Schneider brand |
| Driving Motor |  Siemens AC motor |
| Temperature Controller |  Omron brand |
| Inverter |  ABB brand |
| Screw and barrel |  Bi-metallic or SKD-11 |
| Heater | Ceramic heater with SS cover |
| Gearbox |  Chang brand |
| Air Switch |  LS brand belongs to LG Group |
Your Premier HDPE Extruder Machine
HDPE extruder machine is also named polyethylene extruder machine which can be used to make HDPE pipe, but it need to be connect with other machines when making HDPE pipes, such as extrusion die, vacuum tank, cooling tank, haul-off, cutter or winder.
Benk is a leading HDPE extruder machine manufacturer in China, and we can supply the super quality machines with best prices, benk only produce plastic extruder machine, the rubber and food extruder is similar like our extruder, but their design of screw and barrel is different, we always find the best screw and barrel in China, and supply guarantee for our machines.
Benk has two type HDPE extruder machine which are normal extruder and high-speed, their difference are gearbox, screw, and motor power. The gearbox and screw are high torque which can connect with bigger power motor, and high-speed HDPE extruder can save power under same output per hour.
Usually, benk use 33:1 and 38:1 screw, 38:1 screw has higher output, but the price of extruder is much higher than 33:1 extruder, many clients would like to choose high capacity extruder machine now, as they know it will bring more profits for them.
At present, we will install scale in the HDPE extruder machine, which can control the speed and weight of feeding, so it can control the thickness of pipe in production. We just test one 20-160mm HDPE pipe extrusion line for our client, you can check its speed for 20mm, and we are making 50-250mm PE pipe extrusion line in our factory now, if you have time, welcome to visit us and know more about our machines.
If you have questions for our machine, please send email to [email protected] , thank you.
Data Sheet
Videos
Image Gallery
Other Main parts
Send Enquiry
High Efficient HDPE Extruder Machine:
| | | | | |
| --- | --- | --- | --- | --- |
| Model | KPM60/38 | KPM75/38 | KPM90/38 | KPM120/38 |
| Screw Diameter(mm) | 60 | 75 | 90 | 120 |
| L:D | 38:1 | 38:1 | 38:1 | 38:1 |
| Motor power(Kw) | 110 | 160 | 280 | 315 |
| Output(Kg/H) | 465 | 650 | 1100 | 1300 |
| increase rate compare with G1 | 20% | 20% | 20% | 30% |
Normal standard HDPE Extruder Machine:
| | | | | |
| --- | --- | --- | --- | --- |
| Model | KPM60/33 | KPM75/33 | KPM90/33 | KPM120/33 |
| Screw Diameter(mm) | 60 | 75 | 90 | 120 |
| L:D | 33:1 | 33:1 | 33:1 | 33:1 |
| Motor power(Kw) | 55 | 110 | 250 | 315 |
| Output(Kg/H) | 150 | 330 | 750 | 900 |
| waste rate compare with G2 | waste 20% | waste 20% | waste 20% | waste 30% |
Video of Our HDPE Extruder Machine: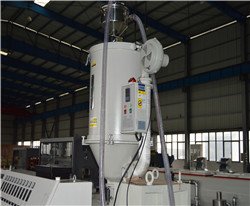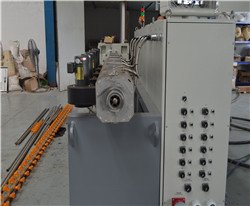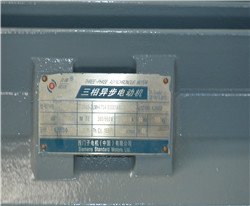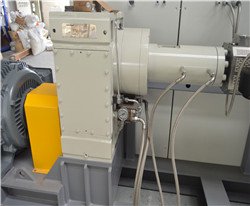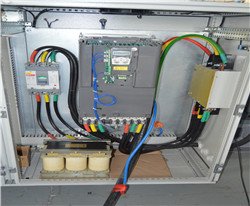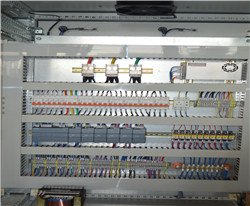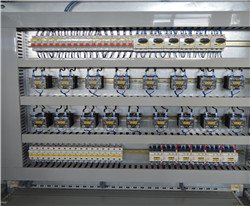 Other Main Parts for HDPE Extruder Machine:
| | | |
| --- | --- | --- |
| Name | Brand | Function |
| SSR | Crydom Brand with CE certificate | Control temperature for twin screw extruder and extrusion die |
| Overload Protector | Schneider Brand(Gv2 type) | Protect fan, the motor in the vacuum pump and water pump |
| Fused core | Bussmann Brand |  Protect Heater and SSR Relay |
| Middle Relay | Ormon Brand | Control Electric Line |
| Switch | Schneider Brand | Switch on/off heating function |
| Ammeter | CHNT Brand | Checking heating electric line is working or not |
| Reactor | Riye Brand | Protect inverter when starting the machine |
| 24V power source | Ormon brand | used for SSR relay |
| Air Switch | LS Brand Belongs to LG Group | Protect Whole Electric Line |
| Isolate Transformer | CHNT Brand | Protect staff safe when they operate the machine |
| Inverter | ABB Brand | Protect Siemens Ac Motor |