PE film washing line
| | |
| --- | --- |
| Electrical Parts |  CHNT brand |
| Motor |  Simens motor |
| Temperature Controller |  Omron brand |
| Inverter |  ABB brand |
| Heater |  Cast Aluminum |
| Your requirements | We make machine as per ur demands |
Your Premier PE Film Washing Line from China
BENK PE film washing line also named PE PP film washing line which is used to recycle waste PE or PP film, agriculture film. BENK has been in produced and exported plastic recycling machine since 2008, we have designed a lot of layout as per our customers' requirements and demands in different countries.
BENK can produce waste plastic machine from 300kg/h to 3000kg/h, our recycling machine has high efficiency in saving power and water, and our prices of waste recycling machine is cheaper and affordable compared with other Chinese manufacturers.
BENK PE film washing line is not used to crush PE film, and washing the dirty on the film with water. Then we will use friction washing machine to wash the film again, then we will dry the film. Then our client would like to buy our plastic granulating machine to produce PE pellets with PE film.
BENK has rich experiencing in producing PE film washing line, and supply the project report to our clients, such as cost of the plastic recycling plant in India or other countries. If you need help, we can assist you to help you move on your business.
Data Sheet
Videos
Send Enquiry
| | | | | |
| --- | --- | --- | --- | --- |
| Capacity | 500 kg/h | 1000 kg/h | 1500 kg/h | 2000 kg/h |
| Required Space [LxWxH] | 42mx15mx6m | 50mx15mx6m | 60mx25mx6m | 80mx30mx6m |
| Operators | 2-3 people | 3-5 people | 4-6 people | 4-6 people |
| Installation Power | 250KW | 350KW | 470KW | 650KW |
| Water Circulation (T/H, recyclable ) | 2 | 3 | 3 | 4 |
PE Film Washing Line: Importers Guide in 2019
Waste plastic films have a big negative impact on nature. Luckily, you can recycle PE & PP films into reprocessed granules, —subsequently transformed by extrusion into new products.
Plastic film
Considering that PE (polyethylene) is the world's most popular plastic, PE raw material continues to be in high demand across the globe with its demand projected to grow. That's why many small to mid-sized businesses are investing in film waste recycling lines.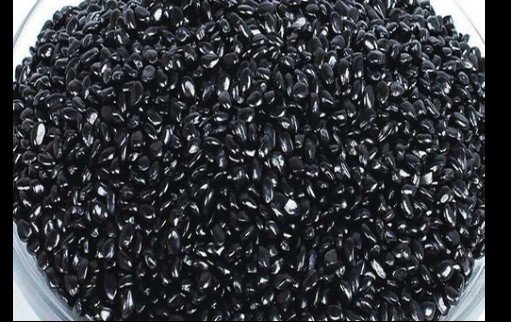 Black Reprocessed PE Granules
Are you here because you need a PE film washing line? If yes, in this article, you'll learn about the PE waste washing, grinding, and drying line in full detail.
With this knowledge, you'll know what to look for, which gives you confidence during the buying process.
Importing it from China can offer a competitive edge to your factory since you save costs and receive value for your money.
But you need a trusted supplier! BENK offers high-quality PE washing lines for the global market.
Shortly, you'll see why you should choose us as your PE washing line supplier in China. Without further ado, let's get started:
Chapter 1: What you need to know when importing a PE film washing line from China
Waste Plastic films
It's no secret that sourcing a new machine from overseas is a challenging and sometimes confusing process. You need to know how to identify a high-quality product, find a trusted company, make payments, arrange for shipping and more!
Over the years, Benk Machinery has worked with new companies setting up plastic manufacturing lines for the first time, and established plastic companies expanding their product lines.
With a high level of expertise; comprising of a team of engineers, technicians, managers and customer care personnel, we're ready to cater to your needs.
If you place an order with us or with any other manufacturer, here are things to consider to get the best plastic film crushing and washing line:
1. Technical specifications of the PE/PP plastic film recycling line
Each factory designs its own lines based on their knowledge, methodology and their target market.
Although PE film washing lines share basic parts such as the conveyor belt, floating washer, among others, it's important to consider the technical specifications of each component. Also important are brands used.
So what should you look for?
Check the machine's model: The supplier may offer several models with different capacities to serve both small and large-scale recyclers.
The control system: It's essential to have an advanced control system with a high level of automation. It should be preferably controlled from a touch screen or offer remote control.
The power and voltage: It might be 380V, 3 phase. But it is important to ask if the company can customize the power supply based on your country.
Material used for construction: What grade of stainless steel does the company use to make parts that come in contact with water? What is its thickness? What kind of metal is used to make the frames and supports?
Plastic recycling machines are made using a lot of parts. And there many more technical details that you should consider.
Ask the supplier for a complete rundown of the specifications, including diagrams, etc.
If the company is unable to supply such information promptly, they might not be a factory, but a trading company.
Experienced importers prefer to deal with factories directly since they can ask for custom features, get technical support, and more!
Benk Machinery is a factory. Our in-house technical team designs and builds the waste PE film washing line.
They have had lots of experience working for big equipment companies and with our many clients.
2. Quality, safety standards, and certifications
CE mark
Most countries have a set of quality standards imposed on all imported goods including plant machinery.
For instance, the EU Union requires products to conform to a specific set of health, safety, and environmental standards. The CE marking is a certification that proves that the product meets these standards and can be sold in the European Economic Area.
Another important set of standards are the ISO International Standards that guarantee that the product is reliable, of good quality and safe to use.
As the importer of a PE film washing line, you'll be tasked with ensuring that the machine you plan to import meets all the standards imposed by the region or country.
Failure to conform with expected standards often leads to recall, fines or seizure of goods.
If you choose to work with Benk, you'll have peace of mind knowing that our products are compliant with both CE and ISO standards.
Conformity to these standards has allowed our machines to be accepted in markets in the Americas, Africa, Europe, Russia, and Asia.
Our plastic recycling line is CE and ISO 9001 certified.
3. The washing line should be fully tested before shipment
Product pages and suppliers can claim many things. But, before you have the machine shipped to you, it's vital to ensure that it is working and meets all your expectations.
For instance, if you're buying a new machine, everything should be new. Then, it must pass full functional tests, which involves assembling the parts, and running tests as if it were in full production.
During such runs, the factory's engineers should spot any minor issues and correct them promptly.
So choose a supplier that's willing to carry out full trials on all machines.
At Benk, we perform product tests dutifully. We usually invite the client, and even new prospects to come and view the machine in production before we ship it.
Quality assurance certificates, test reports, and all the documentation will also accompany the machine to its destination port.
What if you can't visit the factory personally?
Some importers seek third party inspection services from specialized firms.
The inspection firm will send their employees to ensure the machine works and is of expected quality. The importer is then advised appropriately.
4. Warranty and spare parts
Offering a warranty is one of the ways a manufacturer can show trust in their products.
But confirm the warranty terms when you buy the machine. It'll save you much trouble knowing what's going to be accepted as a warranty claim.
A reputable manufacturer will make this information available, and advice you on the terms.
You may also get an offer for free spare parts for consumables, or easily wearable parts.
During this period, it is good to make connections with local suppliers from your own region. It's also convenient to have some parts stocked.
Ideally, when the machine breaks down, you should fix it as soon as possible to prevent long downtimes, which lead to losses.
At Benk, we give you a warranty of up to 12 months, and free spare parts supply for the first six months. With some of the spare parts in stock, we can easily ship them by airfreight or sea to you.
5. Ensure they offer on-site installation services, technical support and training
Shot of PE film recycling line
The supplier should be willing to support you from the start to the finish. Benk Machinery does this well.
We offer on-site installation services and have at least two engineers supporting our international clients.
This ensures that there is someone always ready to travel to your country. We are also well-versed with the different procedures of obtaining travel documents to several regions.
Our engineers also train your machine operators to function independently. Benk also offers consultancy on other matters such as the best place to source raw materials and free formula support.
Conclusion
Benk Machinery cares about its reputation, and we are always guarding it by providing the best PE film washing lines.
You should not always look for quotes that are very cheap and suspicious, as the company could be risking its quality standards.
In the next chapter, I'll finally introduce you to the PP PE film washing line and all its main parts. Stay tuned.
Chapter 2: Introducing Benk's PE Film Washing Line
Are you ready to see how a PE film washing plant works?
While a PE film washing line consists of many parts, it's not hard to understand. It performs very simple tasks: washing, grinding, & drying.
Let me explain:
When a plastic film is used, it becomes dirty. For instance, agriculture shade plastic: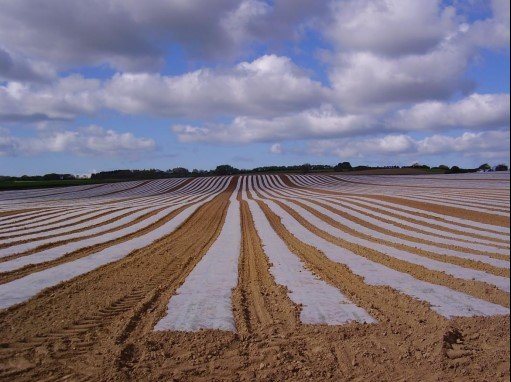 Plastic mulching
When it's brought into the recycling factory, it will have small soil particles, right?
Anything that is not plastic is a contaminant including soil particles, bits of metal, rocks, dead insects, etc.
For effective washing, PP and PE films have to be ground down into smaller flakes. They are then washed in two or more stages before they are dried.
Water is consumed in the recycling process, about 2 tons of per hour in some lines.
2.1 Parts of the PE Film Washing Line
In summary, the working flow of the washing line for plastic films is:
Conveying → Crushing with water → Screw feeding → High-speed frictional washing → Screw feeding → Float washing → Dewatering → Thermal drying with hot air
Each process step representing a machine. For instance, conveying in done with a conveyor.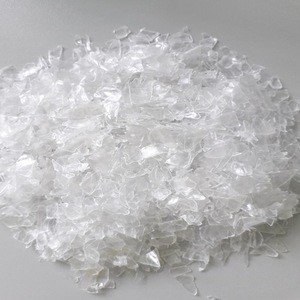 Example of Cleaned plastic flakes for PET
2.1.1 Feeding Station
Plastic films arrive at the factory wrapped in bales/bundles that may be secured by metal straps or ropes.
Some companies specialize in the collection of waste plastic films. For instance, they might supply clear plastic films with little or no markings.
You may need to find and partner with such a company in your locale. Also, you can import plastic film bales from other countries.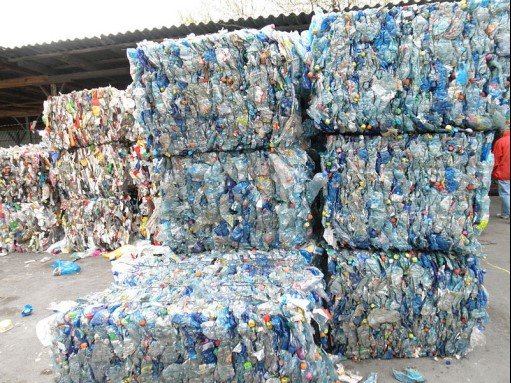 Plastic waste in bales
Bales have to be taken apart and fed into a conveyor belt, which loads the waste PP PE films into the crusher.
You can hire laborers to take apart the bales and feed them into the conveyor. Manual 'busting' of bales is suitable if your company operates in a place where the worker wages are not expensive, as you will need one or two people for this job.
But if you come from a country with relatively higher wages, it's much more viable to acquire a debaler machine to bust the bales.
Our feeding point can accommodate up to four people, and it's fitted with guard rails to keep your workers safe as they work.
2.1.2 Conveyor Belt
Conveyor belt that loads PE fims in crusher
The conveyor belt will convey the PP PE films into the crusher. We offer it in lengths of 5 or 6 meters, diameters of 500mm, 600mm, or 800mm, and with speeds of 2-6 meters per minute that is automatically adjusted.
2.1.3 Washing unit – crusher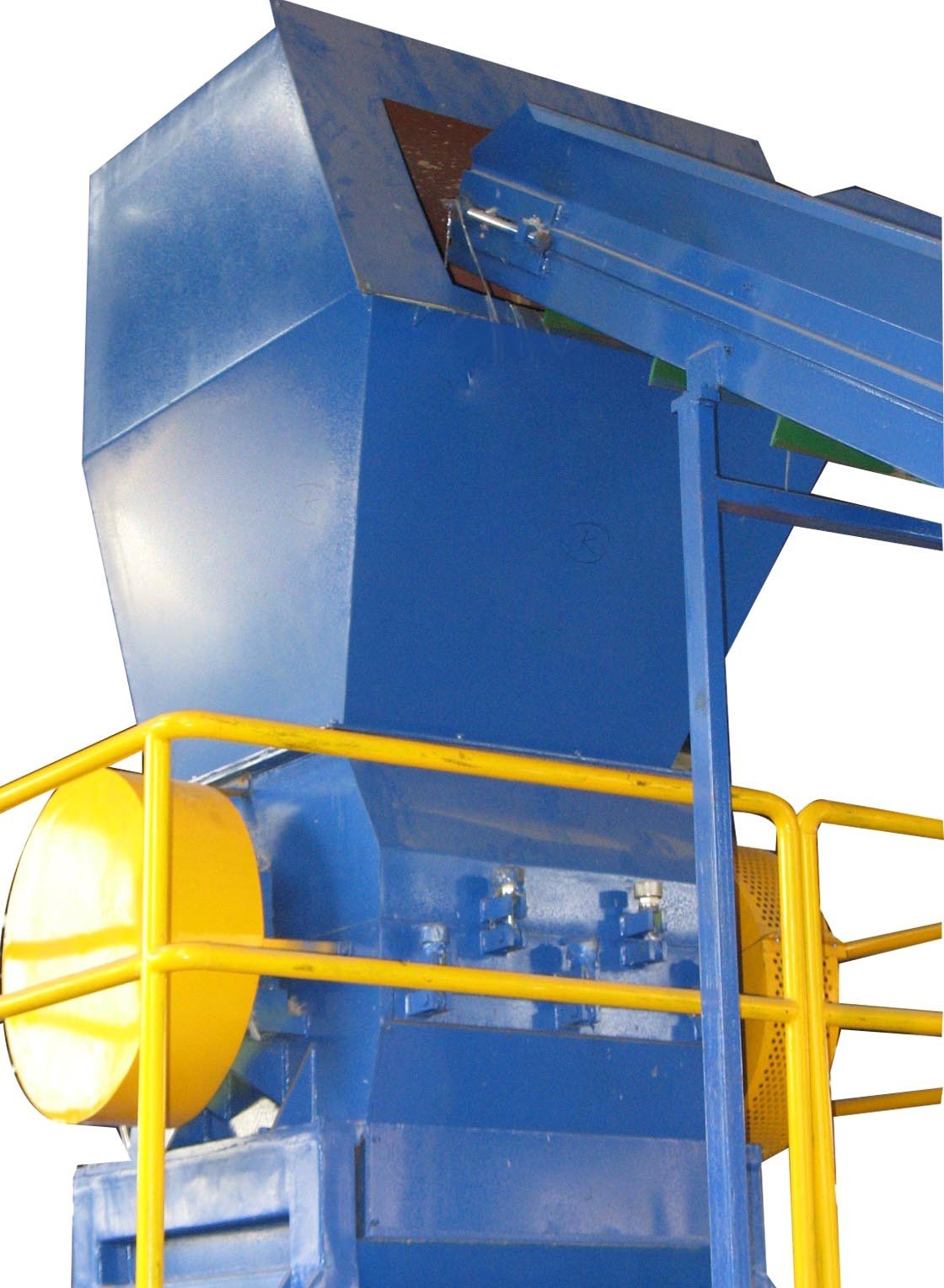 Water PE Film Crusher
Also called the granulator, it cuts large PE films into smaller pieces. Its main components include:
Main shaft
Water nozzles
Stationary or fixed knives
Rotary knives
Screen filter
Motor (used to drive the rotating shaft)
So what happens when the uncut plastic films from the conveyor enter the PE film crusher?
I'll explain:
Side view of PE Film Crusher
The films fall on top of the rotating shaft that has rotary knifes mounted along its length. Water nozzles fitted on the upper section of the crusher, spray cool water on the films.
Water acts as a lubricant by reducing the friction generated during the grinding process. It also removes some of the contaminants.
And how does cutting take place?
As the shaft rotates, the plastic film is shredded when it's cut between the stationary knives and rotatory knives.
There is a screen filter mounted below the rotating shaft. It has small holes of set aperture size, for instance 12mm to 18mm. So, only plastic flakes of the required size can fall through, and large flakes can be further ground down.
We have taken a number of quality measures to ensure that you get the best performance from our crusher.
By using water grinding, the knives can last up to two times longer than in dry crushing. The knives are also made from SKD-11 steel, a high-carbon and high-chromium alloy, mostly used for tooling, because of its high toughness & hardness.
The crusher comes with 2 fixed knives, and 6 rotary knives, which can be lowered, lifted and further fine-tuned with hand operated hydraulic controls.
The motor used to drive the main shaft comes from WEG or Siemens. Both brands offer exemplary performance!
But you can also specify the motor brand for your PE film crusher. Moving on, we have the:
2.1.4 Screw Loader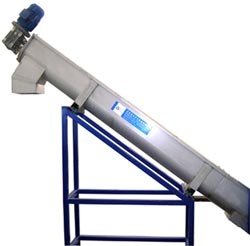 Screw loader
It's also called the screw charger. And like the conveyor, it conveys the crushed film flakes into the next process equipment.
So how does it work? The screw loader has a cylindrical casing; inside which you find a rotating helical screw.
With each rotation of the helical screw, plastic flakes are pushed up the incline, till the opening, where they fall into the high-speed frictional washer.
The amount of the conveyed material depends on the rotational rate. So you can vary the helical screw's rotating speed to determine the amount of material conveyed.
There are two locations where screw loaders are used in the PE film washing line: Between the crusher & the high-speed frictional washer; and the other screw loader links the floating washing tank with the dewatering machine.
2.1.5 High-speed frictional washing machine
High frictional washer
Have you ever used a washing machine? Specifically, a top loader washer with an impeller? The PE film frictional washing machine works on the same principle.
It uses rotation and tumbling action to remove contaminants from the plastic film flakes.
Let's take a tour inside the frictional washer:
Inside, you'll find a rotating shaft with paddles mounted along its length. This shaft acts as the agitator and can spin at high-speeds of more than 500 RPM.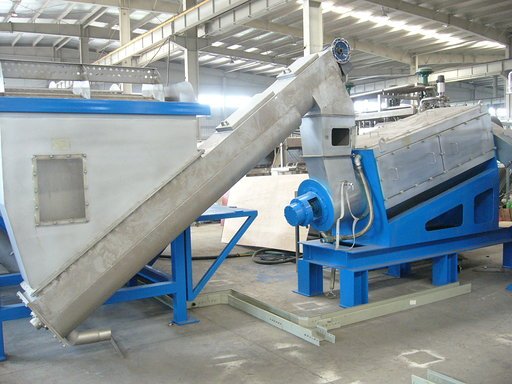 High speed PE film frictional washer in factory
As it rotates, water is forced against contaminants on the surface of the plastic flakes. This creates the scrubbing action, and dirt is removed.
Enclosing the shaft is a meshed cylindrical-like drum. Its perforated mesh allows water along with the dirt from the film scraps to drain away.
Enclosing the cylindrical drum is a rectangular-shaped drum, which forms the body of the high-speed frictional washer. It's fitted with water spray jets, which spray water on the mesh to keep it from clogging with dirt.
We've taken several quality steps to ensure optimal performance of our high-speed frictional washer for PE film washing lines:
All parts that come into contact with water adopt SUS 304 stainless steel with excellent resistance to rust and corrosion. The motor power is 7.5KW/15KW. And the main shaft rotates at 560r/min, which is sufficient to provide the best cleaning action.
2.1.6 Floating washing tank
 Floating washing tank
The floating washer relies on a simple principle, which is; materials with a lower density than water float on it, and denser materials sink.
The density of water is about 1 g/cm3, while the density of polythene ranges from 0.88 to 0.96g/cm3. So it floats!
On the other hand, sand has a density of 1.33gm/cm3, meaning that it must sink in water. And it does!
The floating tank operation:
Crushed PE films are dispersed on top of the floating tank as they are discharged from the frictional washer. Denser materials (sand, glass, metals) sink to the bottom.
Large paddles on top of the floating washer move the suspended PE/PP films forward along the length of the tank.
At the end of the tank, a second screw loader conveys the clean plastic flakes into the dewatering machine.
PE Film floating washers side view
And what happens to sunk contaminants?
At the bottom of the floating washer is a screw conveyor. It periodically removes any dirt that has accumulated.
Our floating washer tank has a number of unique features:
Paddles on floating washer
First, it has an effective length of 6meters, unlike 4 meters for most standard tanks. Increased length is very important since the plastic films will stay suspended for a longer time, leaving enough time for heavier materials to separate.
The body material and floating wheels are also fashioned from stainless steel. And we can equip the tank with 5 or 6 paddles.
2.1.7 Dewatering machine
After washing, the plastic films have a high water content that needs to be removed.
Drying is done in two stages using two independent systems:
Using a squeezing screw dryer, or with a horizontal centrifuge
Thermal dryer system (final drying apparatus)
In our PE film washing & recycling line, the first drying apparatus is a squeeze screw dryer. But some lines use a horizontal centrifuge dryer.
I'll first explain the horizontal centrifuge dyer working principle:
Centrifugal dryer
The centrifuge dewatering dryer is similar in terms of construction to the high-speed frictional washer: It has a main rotation shaft with paddles mounted on it.
A mesh screen tunnel encloses the shaft (axis). When the plastic flakes are spun at high-speeds, they are flung to the walls of the inner meshed drum, which contains small holes, through which the water is drained away.
Let's see how the squeezing dryer works: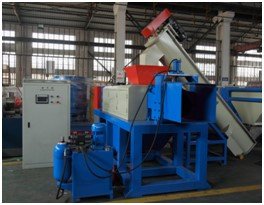 Squeezing dryer
Instead of centrifugal force, it uses shear mechanical force to press and compact wet plastic flakes in order to remove water.
It's also called the screw press dewatering machine because it has a screw enclosed inside a barrel, which is similar to the extruder's screw and barrel design.
On the upstream section of the machine, the screw has a narrow diameter and greater channel depth.
Down the barrel, the screw's diameter increases. This configuration allows the plastic flakes to be squeezed as they are conveyed by the screw. Small holes on the barrel allow water to drain away.
The dewatering process reduces the moisture content to 15-30%, but we need to bring it down further to ≤3%.
2.1.8 Thermal Drying system/pipe dryer system
Pipe drying system
Thermal drying systems are used after mechanical drying. They extract the residual moisture through dehydration, which simply involves blowing hot air through the plastic flakes.
The main parts of the PP PE pipe drying machine are the coiled pipes, an electrical heating device, blower, separator, etc.
And how it does it work?
Plastic flakes are discharged from the frictional washer into a stainless pipe connected to the electrical heater (that generates hot air) on one end, and to the blower on the other.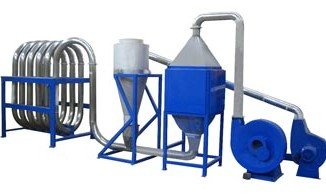 PP PE film flakes thermal drying system
The flakes and the hot air are then vacuumed into the pipe system by the blower. Inside the tubes, the hot air absorbs moisture.
At the end of the convoluted tubes, the film flakes are blown out through a cyclone separator.
Convoluted pipe system
Following thermal drying, the scraps have a moisture content of about 3%, which is acceptable for pelletizing.
2.1.9 Storage hopper/silo
Silo
Dry flakes can be stored in large fiber bags, or channeled into a storage hopper or silo of a pelletizing line.
So this means you can pelletize the flakes at your factory, or sell them to other companies.
2.1.10  Electrical cabinet and control system
Electrical cabinet and control system plastic recycling line
We adopt a Siemens touch-screen control system that can automatically manage the entire washing process. It offers an automation level of 99%.
In the electrical cabinet, we use components from world famous companies, for instance, Schneider contactors, and ABB inverters.
The control system also has an alert system with warning buttons. So the first line operator will know if something is not right and rectify it promptly.
PE PP film pelletizing line
Pelletizing machine showing extruder
Dry, clean and contaminant free film flakes are needed for the pelletizing process. The main equipment for making PP or PE reprocessed pellets is a single-screw extruder or twin-screw pelletizing extruder.
Now, you might encounter the terms; single stage and double stage (two-stage) pelletizing line. There are simply process flows for making pellets.
PP PE film pelletizing line
I'll explain both:
The single stage configuration consists of: Belt conveyor →Plastic Film Agglomerator (converts plastic films into dense cubes for easier feeding into the extruder) → Extruder → Screen changer → Water ring pelletizing device (cuts strands of molten plastic under water) → Water-dehydrating machine → Vibrating screen (used for grading pellets and separating pellets of low quality) → Blower (uses air to convey granules into a silo) → Storage hopper/silo
Silo for storing recycled pellets
The two-stage process flow has the same components with one difference: there are two extruders + hydraulic screen changers arranged in series.
We can supply single and double stage pelletizing machines with a wide range of output capacities from 150 kg/h to 500 kg/h.
2.3 Which other machines are needed in a PE film washing line?
There are at least 8 main machines in the PE film washing plant. And their role is to produce clean plastic flakes that can be made into pellets with a near virgin quality.
But some recycling companies deal with very dirty films. In such cases, for instance, a single floating tank or frictional washer may not remove all the contaminants. Therefore, the client might need two floating tanks or frictional washers.
Some clients may also request for a magnet. Magnetizing can be done using a magnet fitted on the conveyor belt just before the PE films enter the crusher.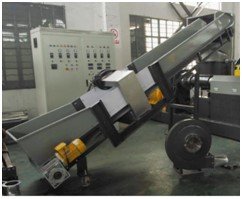 Conveyor Belt with magnet
Based on the material you're processing, you may also need rolling separator, of which, we can supply as an alternative equipment.
And how does it work?
Rolling separator
It consists of a trommel screen also called a rotary screen. It is just a cylindrical drum with many pores/holes. Materials such as PE films are fed into the drum with a conveyor, and as it rotates, it screens out materials.
Rolling separator for plastic recycling plastic
For instance, you can use it to remove sand or rocks from PE films.
Finally, in your plant, you can arrange all the process equipment in a "U" or "L" configuration, based on the design of your factory floor.
You may notice that the number of machines you have to get depends on the contamination level of the plastic films. We can offer help when it comes to configuring the PE film washing line to produce the cleanest plastic scraps!
2.3 What else do I need to know to import the PE film washing plant from China?
You have seen how the machine works. And what to look for in a credible supplier.
This covers all you need to know!
Choose BENK as your automatic PP PE film plastic recycle washing line supplier. Our buying process is simple & transparent.
Start by contacting our Manager Tony, with your requirements. You can tell us about the plastic film type, the expected level of contaminants, and any detail you're comfortable to divulge.
Then our professional team will advise you on the machines you need and will prepare a quote and preliminary design. BENK also offers many online and offline payment avenues giving you more options and flexibility.
Upon agreeing to the terms, signing the contract, and making a down payment, we'll start assembling your PE film washing line.
At each crucial milestone, our team updates you. They continue communicating with you until the project's completion.
2.4 Which PP/PE film washing models do you offer?
Our BKE PE film washing series caters to small, mid-sized and large plastic recycling companies.
The following table shows the output capacities, which range from 300kg/h to 2000kg/h. You'll also see the operators needed for each line.
| | | | |
| --- | --- | --- | --- |
| Model | output | Operators need | machine size |
| BKE-300 | 300KG/H | 2-3 | 30 * 2 * 3.5m |
| BKE-500 | 500KG/H | 2-3 | 40 * 2 * 3.5m |
| BKE-1000 | 1000KG/H | 3-5 | 50 * 2 * 3.5m |
| BKE-1500 | 1500KG/H | 3-5 | 60 * 4 * 3.5m |
| BKE-2000 | 2000KG/H | 3-5 | 80 * 6 * 4m |
The machine takes about 7-10 days to install on site. We can supply water, electricity and gas diagrams for all models.
The next table shows models for our pelletizing line:
Model
Extruder
Screw diameter
L/D Ratio
Installation power
Capacity
KPM65
SJ65/28
65mm
28: 1
50kw
50-80kg/h
KPM100
SJ100/22

SJ90/10

100mm

90mm

22: 1

10: 1

80kw
100-150kg/h
KPM200
SJ120/22

SJ100/12

120mm

100mm

22: 1

12:1

120kw
150-200kg/h
KPM300
SJ150/22

SJ120/13

150mm

120mm

22:1

12:1

160kw
250-350kg/h
KPM400
SJ180/22

SJ150/12

180mm

150mm

22:1

12:1

220kw
350-450kg/h
KPM500
SJ180-140

SJ120/12

180~140mm

120mm

22:1

12:1

175kw
450~550kg/h
KPM600
SJ220-150

SJ150/12

220~150mm

150mm

22:1

12:1

250kw
600-700kg/h
Conclusion
With all that we have covered in this chapter, you'll have all the knowledge you need to confidently choose a PE film washing line supplier.
Next, I'll highlight some of the benefits of getting our PE PP washing recycling machine.
Chapter 3: Advantages of our PE Film Washing Line
Automatic PP PE film plastic recycle washing line
For long service life, machine parts that come into contact with water are made with SUS304 grade stainless steel with a thickness of 3mm.
A wide range of output capacities including 300kg/h, 500kg/h, 1000kg/h, 1500kg/h, and 2000kg/h.
Famous brand parts in our PE film washing and pelletizing machine including Siemens PLC control, SKF or NSF bearing, Schneider contactor, Ormon temperature controller, JiangYin Gearbox and ABB inverter.
The PE film washing line is CE and ISO9001 certified.
Well experienced personnel who can offer assistance in Chinese and English.
Excellent after-sales support with electrical & mechanical engineers available for on-site installation and training of your first line operators. We also offer well-written operational menus & installation guides.
Confidential and long -term business relationship long after you buy the line.
Fast response time to your queries.
Customize colors available.
12-month warranty with six-month supply of free spare parts.
Chapter 4: PE film washing line price
PE film line components in our workshop
How much does a PE film washing line cost? It depends on the model you wish to acquire.
Smaller models will go for less than high output lines. New washing plants will also fetch more money than used PP PE washing lines.
The best I can give you is an estimated price range of $15,000 to $100,000.00 per set.
Get the best price at Benk
Our company will offer you the lowest & best quote for the PE film washing line in China, compared to similar lines of similar quality.
Keep an eye out for really cheap quotes, as the PE film washing manufacturer will equally try to reduce their cost by cutting corners to enhance their profits. At BENK, we engage in honest business practices!
Chapter 5: An in-depth look at PE film recycling
The amount of plastic film recycled increases year after year, thanks to the development of more efficient processes, and the availability of recycling technologies & equipment.
According to a 2015 Plastics Recycling Conference report, small and mid-sized businesses are drivers of the increased plastic recycling trend.
Recycled PE/PP film pellets are usually mixed with virgin materials to manufacture new products, or used on their own to produce sheets, films, pipes, etc.
In this chapter, you'll learn more about plastic films, both PE and PP, so let's get started:
5.1 What are plastic films?
You can consider any plastic with a thickness of less than 10mm as a plastic film. Lots of plastic films are made from polyethylene resin. In order for them to be recycled, plastic films have to be empty, clean, and dry.
For instance, if the plastic bag had bread it in, all the breadcrumbs should be shaken out, before it's thrown into the recycling bin along with other recyclables.
And what happens after?
The recyclables are collected and sent to the recycling facility. There, glass, metal, paper, and plastic are sorted.
Clear films are usually separated from colored films, films with labels and printed films, which must be processed separately to prevent contamination.
Plastic films are then bundled together and sold to recycling plants, for grinding, washing, and pelletizing.
5.2 What is PE?
PE in full stands for polyethylene. It is thermoplastic, which means that it can be melted again after it's set.
On the other hand, thermosetting plastics are permanently set, and can't be recycled.
5.3 What is PE recycling number?
Polyethylene has different grades including:
Low-density polyethylene (LDPE)
Medium density polyethylene (MDPE)
High-density polyethylene (HDPE)
PE films are made from all the grades. Now, plastic resins are assigned different numbers to help the user identify them.
The recycling number for LDPE is 4:
 PE recycle logo & number
You can easily distinguish films made from LDPE. If the LDPE is not colored or pigmented, it will have: a high level of clarity, be very flexible, high moisture resistance, and moderate strength. This grade is usually used to make bags for bread.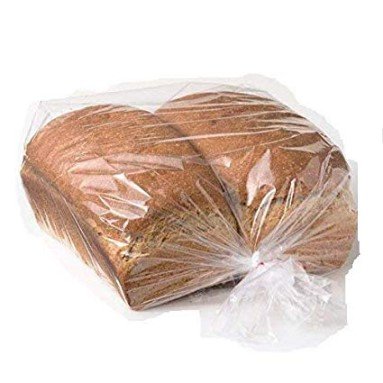 PE film for bread
Another variant of LDPE is linear low-density polyethylene (LLDPE). It's structurally similar to LDPE with the same recycling number. But it has shorter polymer chains, which gives it a higher tensile strength, more puncture resistance, and flexibility.
Thus it can make thinner walls than LDPE without compromising on the strength. Products made from LLDPE include dry cleaning garment covers, newspaper bags, films for agriculture and stretch wraps.
MDPE makes plastic films that have lower clarity and less flexibility such as toilet paper packing. Its recycling number is also 4.
HDPE films have more strength than MDPE and LDPE films. However, they are opaque in appearance and moderately stiff. The recycling number of HDPE is 2.
And they are used to make plastic grocery bags, construction films, agriculture film, and bag liners.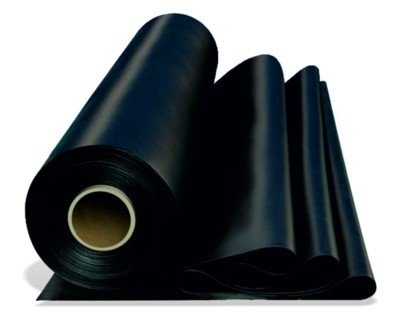 HDPE Construction film
Its recycling logo and number is: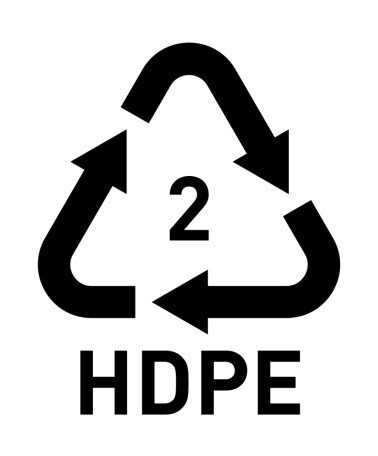 HDPE recycle symbol
5.5 What is PP?
PP is a thermoplastic made from polypropylene monomers. It's known for its high clarity, low haze, higher gloss, high tensile strength, and excellent resistance to acids, bases & chemical solvents.
With a higher melting point than PE, it's suitable for plastic films that are exposed to high temperatures. However, its heat-sealing properties are less than that of LDPE.
There are two types of PP used to make films:
Cast unoriented polypropylene (CPP)
Biaxially oriented polypropylene (BOPP)
They produce films with high gloss, excellent optical properties, good heat-sealing abilities, sufficient moisture barrier, and greater heat resistance than PE.
And how do they differ?
It's all in the manufacturing process: BOPP is made when an extruded polypropylene film is stretched in the machine's direction and transverse direction. On the other hand, CPP is oriented in the machine's direction only.
This gives rise to their differences. CPP tends to be soft, easy to stretch, and better during heating-sealing than BOPP. It's mostly used for flexible packaging applications. CPP manufacturing lines are also cheaper to set up.
Because of the intensive stretching, BOPP films tend to be stiff, thinner than CPP, with excellent gas barrier properties, and more tensile strength.
BOPP films are used for food & beverage packing applications and can take the place of cellophane and aluminium foil.
Green bag made from PP
Other PP uses:
Green bags such as the one pictured here are made from non-woven polypropylene, which is recyclable and reusable. It's touted as a better alternative to plastic bags.
PP films also make cigarette wraps, candy wraps, tape liners, sterile wraps for surgical packs, and diapers.
5.6 What is PP recycling number?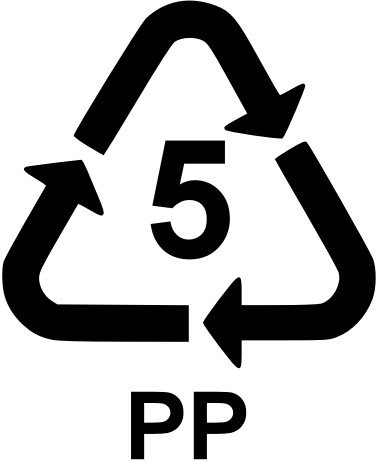 PP recycling number
5.6 What are white injection PP granules?
PP granules are usually classified into different types such as high crystalline polypropylene, random copolymer PP and block copolymers PP.
They are also availed in many colors including green, orange, sky blue, yellow, pink, red, milky white, etc.
White injection PP granules are just another grade. You'll also encounter PP granules labeled as PP natural 2001, PP natural 2002, PP natural 2003, PP super black, PPCP V Black, etc.
Conclusion
So what's next? Talk to us today, and let's answer all your questions, and teach you more about the PE Film washing plant. We also offer other high-quality plastic manufacturing lines for making pipes, boards, sheets, plastic tiles, and more!
Contact details:
Tony Cao
Wechat / WhatsApp: +8613052271776