PVC Mixer Machine
| | |
| --- | --- |
| Contactor | Schneider brand |
| Motor |  Simo brand- Chinese No.1 |
| Hydraulic | 4 pcs in cooling and hot tank |
| Inverter |  ABB brand |
| Heater | Stainless steel heater |
| The way of heating |  Heater and high-speed friction |
| They way of cooling |  Water and low-speed stir |
| | |
Your Premier PVC mixer machine in China
BENK PVC mixer machine also named hot and cold mixer which is used to make PVC compounding formulation by yourself. BENK is high speed mixer machine manufacturer in China.
BENK PVC mixing unit has two mixers which are hot mixer and cooler mixer, the hot mixer is used to heat the PVC powder, calcium and additives which is better for compounding all material, it can be speed up the mixing and can reduce the moisture of raw material, and cooling mixer is used to cool the plastic raw material which can speed up the output.
BENK has high speed mixer with production capacity from 150kg/h to 1200kg/h, we use ABB inverter and Simens motor in the mixing unit which can reduce power consumption for you, BENK mixing machine can mix one pot within 8-12mins, each hour can finish 5 pots.
BENK mixing unit also includes the spring loader, our cooling tank is use recycling water to cooling the formulation, the water will be circled to use which can reduce wastewater.
BENK PVC mixer is a necessary machine for the PVC pipe manufacturing process and PVC granulator, PVC compounding recipe is made by yourself, if you do not have, we also supply our recipe to you by our engineer.
The raw material of mixing tanks is made by Stainless steel 304 with the 3-4mm thickness which can ensure the long time using.
BENK also have automatic feeding system, which is consisted by raw material tank, high-speed PVC mixer, vacuum hopper loader and other parts, it will mix the PVC compounding formulation, and will convey the formulation to the plastic extrusion line automatically.
Data Sheet
Videos
Image Gallery
Send Enquiry
Parameter/model
SRL-Z50/100A
SRL-Z100/200A
SRL-Z200/500A
SRL-Z300/600
SRL-Z500/1000
SRL-Z800/2500
Total volume(L)
50/100
110/200
200/500
300/600
500/1000
800/2500
Effective volume(L)
37/70
75/130
150/320
225/384
375/640
625/2200
Oar speed(rpm)
510/1013/118
650/1300/130
484/967/110
964/100
830/71
600/35
Motor power(Kw)
7/11/7.5
14/22/11
30/42/11
55/11

With ABB inverter

75/15

With ABB inverter

110/22

With ABB inverter

Heating & cooling
Self-friction/water
Discharge
pneumatic
weight(T)
2.8
3
3.5
3.8
4.4
5.5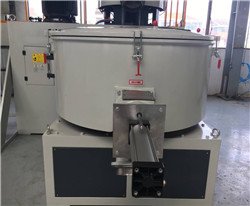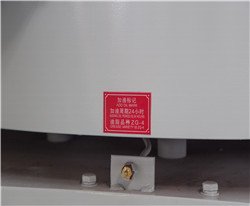 High-Speed Mixer: The Importers Guide
Are you a plastic manufacturing company that deals with PVC ( polyvinyl chloride) products such as pipes, boards, and profiles?
Then, you already know that a high-speed mixer is a needed auxiliary machine.
If you're looking for one, Benk produces the SHR series of high speed mixers used in plastic companies around the globe. The mixers are known for their low energy consumption, low noise, reliability, durability, and safety.
In this article, you'll learn more about the hot and cold mixer. If you're new to PVC mixing, we'll also cover some PVC compounding techniques.
In the end, you'll have the knowledge to choose the best PVC mixing system and save money in the process.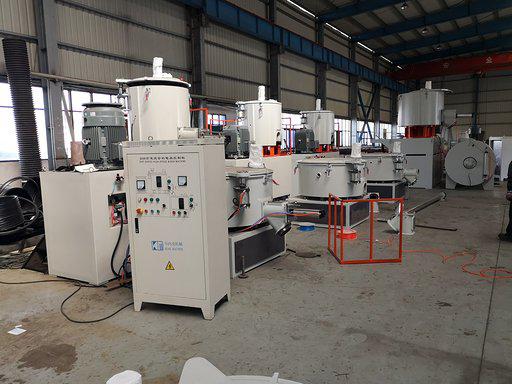 Figure 1: Plastic mixers on the factory floor
Chapter 1: PVC Mixing Process
1.1 What is PVC mixing?
To understand the PVC mixing process, we must talk about PVC.
So what is it?
It is a thermoplastic produced from two basic raw materials:
Ethylene from crude oil
Chlorine obtained from sodium chloride (through salt water electrolysis).
These two basic materials undergo a special process where they are converted to vinyl chloride monomers (VCM). Since PVC is a polymer, several VCM units are combined to form polyvinyl chloride.
How PVC is made
1.1.2 Did you know that PVC is very popular?
Yes, it is the second most used plastic resin after polyethylene. But, PVC is very unsuitable for direct processing because if its low thermal stability and high melt viscosity.
It has to be mixed with other compounds. These compounds are called additives. Additives introduce a broad range of properties in PVC, allowing it to adapt to different uses.
1.1.3 And what are the uses?
PVC has been used for medical tubes, window profiles, boards, plastic pipes, and more!
It's all thanks to the additives. And each product will have its own ingredients or recipe.
1.1.4 Which PVC additives are used?
Figure 2: PVC medical tubes
Good question: here is a list of some additive types:
Heat stabilizers
Processing aids
Lubricants
Plasticizers
Fillers
Fire retardants
Pigments
Antioxidants
Herbicides
UV absorbents
Impact modifiers
And more.
PVC compounds require plasticizers to make them flexible. When plasticizers are used, the product is said to contain PVC-P.
And when the plasticizers are not used, the compound is referred to as PVC-U.
You also need to know about CPVC. It's made after PVC is chlorinated to increase its chlorine percentage usually from 56 to 66 percent.
Increasing the chlorine content reduces the attraction forces between PVC polymer chains. So products made from CPVC exhibit more flexibility.
1.1.5 What is compounding?
Mixing of additives with PVC resin is called compounding. Based on the PVC mixing technique used, the final compound can be:
Dry blend (a free-flowing powder)
Pellets
Wet paste.
1.2 PVC mixing techniques
Next, I want to introduce you to three PVC mixing techniques.
i.       Dry blend mixing
Figure 3: PVC dry blend
In dry blend mixing, most of the ingredients are in solid form. And some ingredients are in liquid form such as plasticizers.
But after mixing, we get a free-flowing powder that is going to be fed into the extruder.
There are two dry blending steps:
Step 1: High intensity mixing/High speed mixing
High speed mixing takes place in a heated cylindrical tank also called a hot mixer or hot pot.
Its main parts are the mixing blade and heated walls.
What is the procedure for preparing a PVC blend?
You'll start by weighing the ingredients based on the formula. Feeding of ingredients into the pot is done in stages.
You can feed some gradients manually for–small quantities. Or with a feeding device like a spring loader for bulk ingredients like fillers.
Stage 1
The first ingredients added to the hot mixing pot are PVC resin, antioxidants, stabilizers, lubricants, and UV stabilizers.
Why are they added first?
We want heat stabilizers, lubricants etc, to be dispensed on the surface of the PVC grains. It's necessary for further processing.
For instance, PVC usually melts at 100oc, and mixing temperatures can reach up to 130o C in the hot mixing tank.
So heat stabilizers will protect the PVC resin from early degradation when the temperature inside the heating pot rises. So thanks to heat stabilizers, early-plasticization will not happen.
Stage 2
The hot tank gets heat from two sources:
Self heating – from frictional heating caused as the blade collides with the molecules for the powder.
External heating – Walls of the hot mixer are also heated using electrical heater coils.
At about 70oC, plasticizers are added to the hot mixing tank. Plasticizers such as DOP (DIOCTYL PHTHALATE) are supplied as transparent oily liquids.
The PVC grains absorb the plasticizer. After absorption, we can add more ingredients.
Stage 3

Figure 4: Pigment
At about 90 to 110oC, you may add color pigments and fillers such calcium carbonate (limestone that melts at 825°C).
The mixing blade disperses the PVC polymer grains and filler grains evenly to obtain a homogeneous mix. At a temperature of 110-130oC, the contents are discharged into a cooling pot.
Step 2: Low speed mixing/Low intensity mixing
In the dry blending process, we use low speed mixing to cool the discharge from the high speed mixer.
Chilled water is used to cool the walls of the cooling mixer to -40 or -50oC.
In the cooling pot, you'll also find a PVC mixing paddle. It is shear-free and rotates at lower RPM.
The paddle can break up agglomerates, disperse any gases, and improve the flowability of the powder.
ii.     Melt compounding
Melt compounding is another PVC compounding technique, where an extruder is used to compound PVC resin with other additives.
It's preferred where a high level of homogeneity is needed.
So how does it take place?
The dry blend is feed into the extruder. The most preferred extruder is the co-rotating twin screw.
Its barrel is segmented into the mixing, conveying, plasticizing and homogenization zones.
It has a pelletizing die that splits the melt into strands, which are then cut into small pieces, and cooled to obtain granules.
iii.    Liquid blending
Figure 5: Plastisol
Liquid blending is another PVC compounding technique. It relies on the preparation of a Plastisol (paste).
Preparation of a Plastisol occurs in a vertical mixer. PVC resin grains are suspended on a liquid plasticizer.
The suspension will be heated so as for the PVC particles to dissolve and form a gel. This gel is then poured into a heated mould to form different products.
Liquid blending produces high viscosity pastes used for floor or wall coverings.
The PVC mixer machine is a little different with plasticsol mixer.
Figure 6: High speed mixer – cooling mixer tank
The PVC high speed mixer operates on the on dry blending technique. It can compound, color and dry the PVC ingredients.
When you purchase a PVC production line, the PVC high speed mixer will be offered as an auxiliary machine.
It just means that it is not installed on-line. And it may be optional for some production lines since PVC pellets may also be used.
1.4 Other names for the high-speed mixer
You'll also find that the high-speed mixer goes by other names. We'll briefly list them:
PVC turbo mixer
PVC compounding mixer
PVC heating mixer
Plastic High Speed mixer
PVC mixing equipment
High speed mixer grinder
PVC heater cooler mixer
1.5 So what happens after PVC mixing?
The PVC compound is feed into the hopper tank and descends into the extruder's barrel by gravity. Two close-fitting inter-meshing screws convey the compound through a heated barrel.
Softening, shearing, and gelation then take place. You may wonder what is gelation?
It's the formation of a gel by the linkage of polymer chains.
Conclusion
In this chapter, we have looked at different PVC mixing techniques namely dry blending, melt compounding, and liquid blending.
Next, we'll look at features of the high-speed mixer for plastic. If you want to import a PVC mixer machine, the next chapter will be of great importance.
Chapter 2: Features of High-speed Mixer Machine
PVC mixer video
Benk's PVC mixer uses advanced technology to guarantee the best mixing results. We have made it using parts from the best local and international companies.
Let's take a look into its main components:
2.1 PVC Mixer Main Parts
They include:
Two mixing pots
Transmission system
Electrical system
Pneumatic components
Base structure/frame.
2.1.1 Mixing pots
Mixer Lid
Figure 7: Mixer lid
Our mixer lids are made from aluminium alloy casting and are double sealed with two layers. This keeps all the powder contained and minimizes dust pollution. We can also include a pulse dust catching device.
The high mixer lid has an inlet orifice that can be easily opened for feeding of materials or observation of the mixing process.
You'll also notice the lids are arch shaped to make them resilient to deformation.
For a high degree of automation, the lids can be optionally equipped with pneumatic and hydraulic opening systems.
b)    Paddle and Blade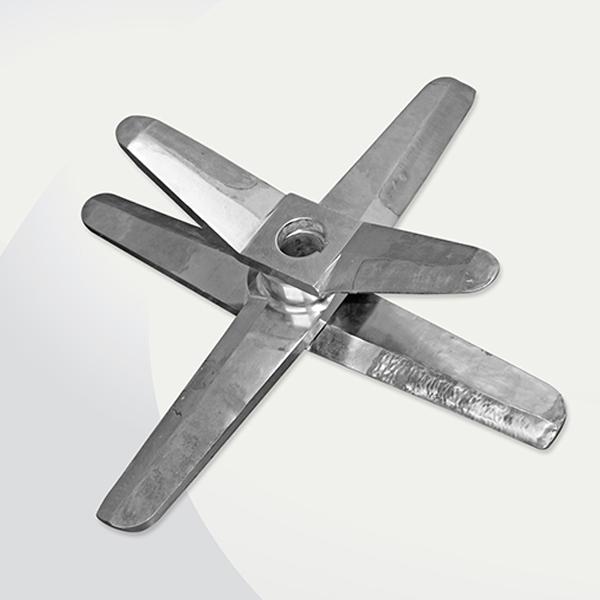 Figure 8: High speed mixer blade
So what's the difference between the paddle and blade?
First, the blade is used in the hot mixer and paddle in the cooler pot. Rotation speed is also different for both.
The blade for the hot mixer can reach over 1000 revolutions per minute to deliver a homogeneous mix quickly.
While the paddle can reach up to 400r/min. The mixer blade tends to have three or more arms. While the paddle has two mounted at right angles.
In terms of similarity, both are made from stainless steel. They both pass the static and dynamic balance test.
If you're wondering why this is important, correct balancing of rotating bodies minimizes vibrations, which can cause noise, and lead to catastrophic failure.
The static balance test checks if the blade's center of gravity is on its axis of rotation. If so, the blade cannot be rotated by the force of gravity when it's mounted/balanced on an axle.
The dynamic balance test checks if the blade can balance when it's rotating.
c)    Stainless steel vessel
Figure 9: Inside mixing pot
The insides of the mixing pot are also made from 304 stainless steel with a thickness of 3 – 4mm. It's easy to clean the stainless vessels and they can last for a long time without corrosion.
We carefully place the blade and paddle to prevent dead angles.
In our hot mixer, the walls have a twin electric jacketed kettle with cotton insulation to prevent heat loss.
In our cooler mixer, the cooling water can be recycled to reduce wastewater.
The interior walls are also fitted with an Ormon temperature controller that adopts PLC control. You can also set the mixing time using the control panel.
Our models have different volumes. For instance, the SRL-Z50/100A, our smallest model has a volume of 50/100 L and the SRL-Z800/2500 with an effective volume of 800/250L.
You can check out more size ranges on the technical chart in Chapter 3.
Discharging port
Figure 10: Discharge port with pneumatic valve
The discharge port/hole is also an important component of the mixing pot. We place the discharge port at the center of the pot. There are no dead zones or remnant material during the discharge.
2.1.2 Transmission system
The transmission system includes the engine/motor, transmission and drive shaft.
The transmission system regulates and applies power to the rotating devices.
We use a hardened gearbox to control the speed and torque.
The motor is from the Simo Brand –Chinese number 1 motor manufacturer.
2.1.3 Electric system
Figure 11: ABB drives
The PVC mixer relies on several electrical components. First, we have a power system that supplies electrical power.
Its main component is the inverter, which sits between the machine and electrical supply.
It converts DC current to AC current needed by the motors.
We also have a frequency inverter/AC drive. It converts fixed AC current into a variable AC current.
By having a variable current, we can control the power supplied to the motor, and thus its speed. We use ABB drives in our PVC high-speed mixer.
The electrical system also includes the electrical control system that influences the behaivor of other devices. (Automation).
2.1.4 Pneumatic components
Figure 12: Mixing pot with pneumatic opening device to the left
You might be asking, what is a pneumatic system?
It's a system that uses compressed air to produce mechanical action.
For instance, in the PVC mixing equipment,a pneumatic system is used to control the opening and closing of the discharging hole at the bottom of each mixer pot.
Pneumatic devices are used in industrial equipment that requires automation.
A programmable logic controller PLC will control the pneumatic device.
2.1.5 Base Structure/Frame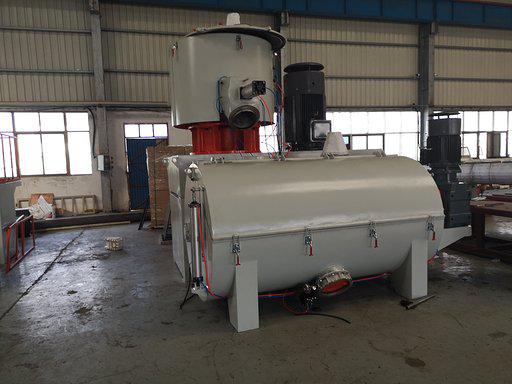 Figure13: High speed mixer tank and motor mounted on supporting frame
The base structure/frame supports the mixer pots, electrical system, and drive system.
Thick steel plates used to make the structure, makes the high speed mixer grinder stable.
A base plate is used to anchor the PVC mixer on the factory floor, allowing to withstand vibrations or high forces.
Painted handrails and industrial stairs made from galvanized steel, provide easy access to the heating pot.
2.2  Advantages of PVC Heater Cooler Mixer
Our PVC compounding mixer has numerous advantages, which makes it a good choice for plastic manufacturing companies. Let's go over some of them:
Different models available for small to large volumes, and normal or fast production lines.
Short residence times in the pots of 8 to 12 minutes.
Stainless steel blades that have undergone dynamic and static balancing.
Advanced cooling blade with no dead angles.
PLC controlled instruments that allow for more automatic control. You will need fewer labor hours to manage the PVC mixer.
We use parts from international brands.
There is a high degree of automation with pneumatic discharge, vacuum loading and automatic transfer to the extruder's hopper.
The stainless steel vessels are easy to clean.
The hot mixer adopts two types of heating.
The base structure is rigid and provides easy & safe access to the pots.
The PVC mixing equipment is simple to operate.
Conclusion
In this chapter, we have covered the features that make our PVC mixer standout.
Next, you'll see the technical parameters of the machine to know which model is suitable for your factory.
Chapter 3: Technical Parameters
Benk's SHR series includes mixers with a production capacity of 150kg/h to 1200kg/h.
The following table lists the models, their total volume, effective volume, among other parameters.
Parameter/model
SRL-Z50/100A
SRL-Z100/200A
SRL-Z200/500A
SRL-Z300/600
SRL-Z500/1000
SRL-Z800/2500
Total volume(L)
50/100
110/200
200/500
300/600
500/1000
800/2500
Effective volume(L)
37/70
75/130
150/320
225/384
375/640
625/2200
Oar speed(rpm)
510/1013/118
650/1300/130
484/967/110
964/100
830/71
600/35
Motor power(Kw)
7/11/7.5
14/22/11
30/42/11
55/11

With ABB inverter

75/15

With ABB inverter

110/22

With ABB inverter

Heating & cooling
Self-friction/water
Discharge
pneumatic
weight(T)
2.8
3
3.5
3.8
4.4
5.5
Chapter 4: PVC Mixer Price
Figure 14: High speed mixer being assembled
4.1 PVC Mixer Price
The PVC mixer price depends on the model you wish to purchase. Generally, PVC mixer prices range from $3,000 up to $20,000 for lines with larger capacities.
Choose a model and contact us. We can offer you a better price and excellent quality.
4.2 Pre-sale Service
With over 10 years of factory experience and hundreds of happy customers, you'll be happy when you choose us as your plastic mixing equipment supplier.
Your purchasing process will be uncomplicated. Our initial consultation services are free.
Once you are ready to buy, you can do a prepayment, so that we can start producing the machine.
You'll need diagrams for water or electricity supply, which we'll supply at this stage. So when your machine arrives, it will take less time to install.
After the machine is ready, we can send you the pictures, and you can even visit our factory to check out your machine.
Rest assured for the best quality as we make the machines at our factory. We also test all the machines before shipment and ship them with a quality assurance certificate.
How long will it take?
We strive to produce and ship the PVC mixer as fast as possible. Generally, your machine will be ready in 25 to 30 working days.
If we have the parts in stock, the machine may be ready sooner.
Packing is done in wooden boxes, and parts are wrapped with PE film. We can also recommend the best shipping partner based on your location.
4.3 After-sale Service
Our after sale services are also of top tier quality.
The PVC mixer has a warranty of one year. You'll also get a free supply of spare parts for the first six months.
Afterward, you can purchase spare parts from your local market. Since the machines use parts from international brand parts, they are readily available.
Installation assistance
Figure 15: High speed mixer being assembled
If you need help installing the PVC mixer, we can send our engineers to your factory. The engineer can also train your staff.
We also supply other documentation such as manuals.
Whenever you encounter challenges with the PVC mixer, we provide support online and may even send an engineer to your factory.
Conclusion
You can reach us by submitting a new message here. We will respond in less than 24 hours or quicker if we are online.
We're looking forward to a successful collaboration!