Plastic Sheet Extrusion Machine
BENK plastic sheet extrusion machine is also named plastic sheet extruding machine which is used to produce PVC marble sheet, PVC limitation and SPC flooring. Benk machinery is a leading plastic sheet extrusion line manufacturer in China, we supply extruder machine at an affordable price. Benk plastic sheet extrusion machine has one layer sheet extrusion machine and multilayer co-extrusion plastic sheet machine which have been exported to many big plastic sheet extrusion companies in the world, such as India, Turkey. The whole extrusion line has the main extruder, extrusion die, three-roller, cooling bracket, laminating roller, cutter and Robert stacker. PVC sheet making machine is the main extrusion machine of plastic sheet extrusion machine, it has the same extrusion process of polypropylene, we will send the installation steps and production process in PDF file after buying our machine, and our engineer will test the machines before shipment, and he also can go to test the machine in your extursion plant, he will supply troubleshooting guide and solutions for problems, if you need training video, we can make video for the temperature on different zone of extruder and mold, then your extruder operator can run the machine well. Our extrusion die is designed according to the thickness of plastic sheet you want to produce, once we have the thickness data from your, we will make the offer for whole plastic sheet making machine for you asap, besides, our offer is also including the easy-damaged spare parts in our machine, but we only supply one year warranty for easy-damaged parts. If you have similar product you want to produce, please contact us now!
Why Big Brand Trust BENK MACHINE
High Speed Output
Production capacity from 50kg/hr to 700kg/hr for single extruder, 110-600kg/hr for conical twin screw extruder
Famous Brand Parts
Simens motor, ABB inventer, OMRON temperature controller, JT GEARBOX, famous brand screw and barrel
Free Formula Support
Our engineer will supply free formula details after buying our machines
Technical Support & Training Service
Our engineer will go to your factory to help you install machine and train your staffs if you need.
Why customer would like to choose our plastic sheet extrusion machine?
We always make the plastic sheet extrusion machines as per what we discussed before, and all parts should be same as we signed on the contract.
Clients always trust us, and do not need take too much time on inspect the finished plastic sheet extrusion machines.
All parts of plastic sheet extrusion machines are using the best and toppest electric parts and gearbox in China.
Benk plastic sheet extrusion machines working stable without any future headache after on regular production.
Do you want to manufacture SPC floor panels or PVC marble sheets—used for cladding walls, ceilings and furniture? Are you searching for a machine that can manufacture these two products? Is quality and durability your chief considerations when buying a product? Today happens to be your lucky day! In this guide, I'll tell you all there is to know about PVC sheet and SPC flooring manufacturing. Using labeled diagrams and friendly language, I'll teach you how a plastic sheet extrusion machine works. For a reliable and quality-wise supplier of a plastic sheet extrusion line, I'll also show you why BENK Machine is the best.
Now, let's start by talking about the machine:
Chapter 1: What is a Plastic Sheet Extrusion Machine?
A machine helps us make work easier. For instance, you car helps you travel. A plastic sheet extrusion machine, on the other hand, helps you convert raw materials (PVC powder and calcium carbonate and other additives) to beautiful plastic sheets. Below, you can see a picture of calcium carbonate (the mineral raw product).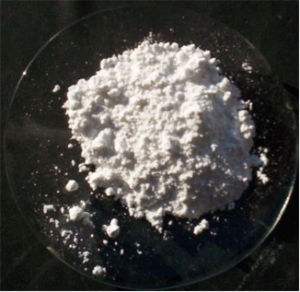 Figure 1 Calcium carbonate
Just a quick reminder: A plastic sheet extruder machine is made up of separate systems. For instance, the mixing system, extruder system and more systems –we'll talk about in the next chapter. So, it's appropriate to call it a plastic sheet processing line. Next, I'll want to show you a video of the line at our customer's factory. Then we can look at some labeled diagrams of BENK plastic sheet line: https://youtu.be/lMHMhQaJ208
Diagrams showing the major systems in SPC floor manufacturing
There are seven major systems that make up the processing line. I'll list them quickly:
Mixing system
Vacuum loading system
Extrusion system
Calendar system
Control system
Cooling bridge and haul-off system
The cutter and automatic stacker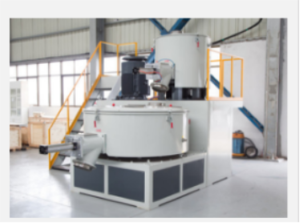 Figure 2 : The mixing system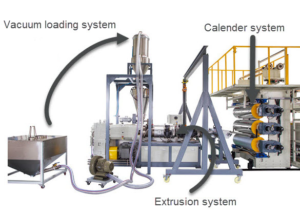 Figure 3:  Vacuum loading system, extrusion system and calender system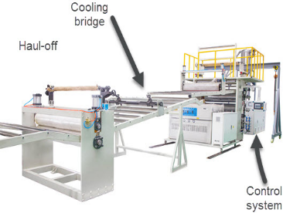 Figure 4:  Control system, cooling bridge and haul-off system.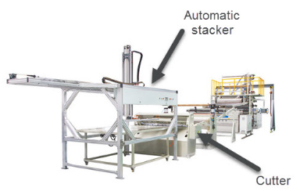 Figure 5: The cutter and automatic stacker.
Chapter 2: The Plastic Sheet Extrusion Line and Component Parts Explained
In the first chapter, I showed you the systems that make up the plastic sheet manufacturing process. For this chapter, we'll look at the each system separately:
A.       PVC Mixer System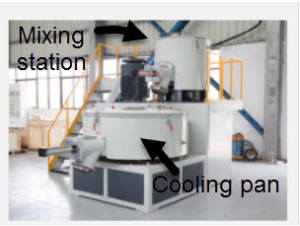 Figure 6: PVC Mixer
Before you start manufacturing plastic sheets, you will have to buy the raw materials e.g.
Calcium carbonate
PVC
Chemical processing aids
So, how will you know what to buy?
Your formula will help you source the raw materials in the right proportions. At  BENK Machine, we give you free formula support after buying the machine. One you have the raw materials, you have to be prepared for processing. The first you you do is blend them into powder form. You then use the PVC Mixer System to mix and dry the raw materials thoroughly. There are two main parts of the PVC mixer, we have to talk about:
Mixing station with a high-speed hot mixer
Cooling pan with a low-speed mixer
How the PVC Mixer operates?
Inside the mixing tank, there is a stainless steel mixing blade. It's driven to high speeds by the motor.
Figure 6: Stainless mixing blade
A lot of frictional heat is generated by the motion of the blade.
In fact, temperatures in the mixing station can reach up 120 – 130 degrees. This helps remove moisture from the powder material. Now, while the high temperatures are good, plasticization or decomposition may occur. You don't want this to happen so early in the process. So, the mixture has to be rapidly cooled. In the picture above, you can see another tank below the mixing station.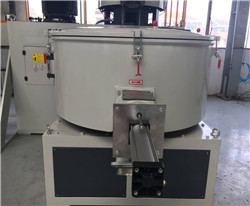 Figure 7: Cooling pan
It's called a cooling pan and it has a low-speed mixer and an inlet for cool water. A continuous flow of water through the lining of the tank, will help cool the mix to about 40-50 degrees. After cooling, the raw material mix is discharged into the vacuum loading system. Next, I'll show how this exciting piece of equipment works:
B. Vacuum loading system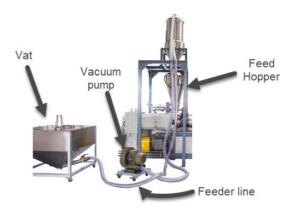 Fig 8: Vacuum loading system
The vat holds the dry and cooled mixture of raw materials from the PVC mixer system. In the picture above, I want to spot the feeder line running from the vat to the stainless tank then into the vacuum pump. The vacuum pump will suck air from the feeder line to create a partial vacuum. This creates a suction pressure that draws the raw material from the vat into the top tank. From here, the powdered mix descends into the feed hopper by gravity.
C. Extrusion system
The extrusion system is the most critical part of the plastic extrusion line.
What does do?
It turns the raw materials to plastic. For this task, it has various parts including the feed hopper, screw motor, turning screws, barrel, electric heaters, and t-shaping die. If you're getting a little confused, check out this diagram of the extrusion system for clarity:
Figure 9: Extrusion system
Feed hopper
It's a container that holds and feeds the raw material into the extruder. It has a opening at the bottom, which is called a feedthroat. The material will pass through it and fall on the turning screws.
Barrel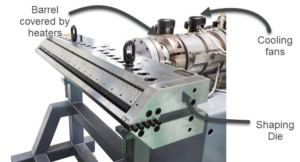 Figure 10: Shaping die and barrel
The barrel houses the twin conical screws. Since heating occurs in this part, the barrel is covered with electric heaters and cooling fans. You can see the cooling fans in the picture above. You also need to know that the barrel is divided into four heating zones. Temperatures increased as you move down the barrel from the moment the material enters through the feedthroat. As you can tell, temperate control is very critical. You don't want any temperature abnormalities because they will affect plasticization. So, when the temperatures are higher than what's set in the system, the cooling fans will activate and decrease the temperature of barrel & screws.
Screw drive motor
Figure 11: Screw drive motor
At one end of extruder, there is a screw drive motor. You can tell its function from the name. Yes, it drives the conical twin screws in the barrel.
Conical twin screw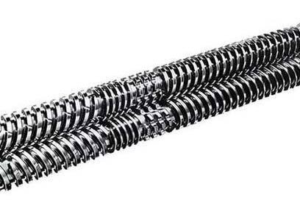 Figure 12: Conical screws
Our plastic sheet extrusion machine has two conical twin screws.  You may wonder: what do they do? Three things specifically, which are:
Conveying simply involves moving the raw materials through the heated barrel. The twin conical screws are designed so as to maintain a consistent rate of flow. In fact, each revolution of the screws will force a fixed amount of molten plastic forward.
Heating and pressurization
We have said that heating is done by electric heaters on the barrel. So, how do screws heat the raw materials? Well, the screws generate lots of frictional or mechanical heat. At start of the barrel, the channel diameter is constant but it decreases as you move down the extruder. At some point, the screws will have to force the material through a small opening. This compresses the molten polymer thereby increasing its pressure. A lot of friction is generated this way. The extra heat helps melt the raw material.
Our ultimate aim is to turn the raw materials into a molten plastic polymer. You need to know that the conical twin screws are designed to facilitate plasticization by being divided into zones: Our conical twin screw extruder has the following zones:
Convey zone
In this zone, the material has entered the barrel. It's preheated to about 190 degrees Celsius and conveyed to subsequent zones. Compression doesn't take place here, because the screw depth is constant.
Melt zone
Higher temperatures in this zone cause the raw materials to melt. The turning screws then push the molten substance to the next zone for plasticization.
Plasticizing zone
What you need to know here, is that there is a decrease in screw depth. Like we said earlier, when this happens compression forces increase. And thanks to high temperatures and pressure, chemical changes (e.g. formation of new bonds in the polymer) occurs. This in turns forms a molten plastic polymer.
Forming zone
In this zone, the channel is full of a molten plastic polymer that's properly homogenized. It has to be expelled form the barrel into the shaping die. But before it leaves, it passes through a breaker plate, which is like a sieve that removes extraneous materials. You can call the molten polymer leaving the barrel an extrudate.
Shaping Die
Figure 13: shaping die
Now, the shaping die is basically a piece of steel (mold) with the same dimensions and shape as the finished product. As the plastic sheet leaves the shaping die, it has the right shape. Its thickness is set by the mouth of extrusion die. This means you can adjust the thickness of the sheet. Generally, the extrusion die can make a 1-8mm sheet.
Calender system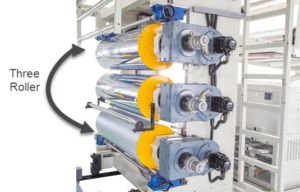 Figure 14: Calender system
You need the calendar system to perform a number of functions. First, to ensure the flatness of the sheet. Second, to decorate it with any surface finishing. For instance: the picture above shows a three roller calender. The three rollers make the sheet flat by stretching, compressing and smoothing. There is one roller on top of the three roller calender which is used to put decoration film over the sheet. You can laminate the decoration film on the surface of sheet, like wooden paintings  or flowers… During the calendering, the sheet passes through a number of heated rollers, which maintain the temperature of sheets so that it's easy to change its flatness. Note that because sheet is very thin, and it will cool down very quickly. So, that's why we need to heat the rollers.
Three-roller and four-roller calender configuration
If you want to make a make PVC marble sheets, you can use a calender system with three rollers or four-rollers. But, if you want to manufacture SPC flooring, you need a four-roller calender system.
So what happens in the calender?
The rollers are always turning drawing the PVC sheet from the t-shaping die. They are driven individually by electric motors. They are also temperature controlled by oil temperature controller. Note that, the speed and temperature influences the final qualities of the plastic sheet. Moving on… In a four-roller configuration for SPC flooring, the first two rollers control the flatness of the plastic sheet. The other two rollers act as embossing rollers. Embossing involves imprinting a design or applying a laminate film over the surface of the PVC sheet. For instance: To make a PVC marble sheet, the film applied on the surface will have the appearance of a real marble sheet board. To make SPC Flooring, the film laminate will mimic the finish of a real hardwood floor. Besides adding beauty to the PVC sheet, during manufacturing SPC flooring we also do need embossing for the back side, which has has glue to make it easy to stick to the floor.
For the highest quality of finished plastic sheets:
The BENK sheet extrusion line adopts the Siemens touch screw and Siemens PLC control system for efficient coordination of the calender rollers and for temperature control.
Cooling bridge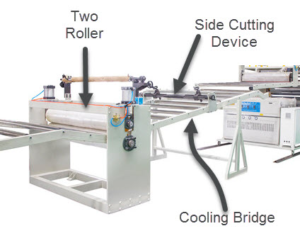 Figure 15: Cooling bridge
Your PVC sheet will leave the calender system looking like a finished product. But, it needs to be cooled, shaped and cut. Cooling takes places over the cooling bridge. It's rack made up of spaced steel pipes. This adequately exposes the sheet to the surrounding air for maximum heat loss. In the picture above, you can also spot a side cutting device. It trim the sides of the sheet so as to get the right dimensions.
Two rollers haul-off system
You also need to note that the movement of the sheet from the calender is facilitated by a two roller haul-off system. The two rollers are driven by a computer controlled motor. This helps drag the PVC sheet accurately and any adjustments are done automatically.
The cutter and automatic stacker
As the PVC sheet moves through the processing line, it's a continuous sheet. But, we need to cut it into pieces so that for easier storage and transportation. Now, the cutter has a photoelectric sensor. Once the required length of the sheet has been draw through it, the fixed cutting blade is triggered. Adopting computer control technology ensures precision cutting and uniformity in each finished PVC marble sheet or SPC flooring. After cutting, the automatic stacker lifts the sheet from the line. The unload hand then stacks it on a pile with other finished sheets.
Advantages of Plastic Sheet Extrusion
Now that we've looked at the BENK plastic sheet extrusion line and learned about some of the parts -you may be left wondering: Why do plastic sheet extrusion? Is it not easier for customers to buy natural marble or hardwood for flooring or cladding walls? Okay, the plastic sheet extrusion process has a number of benefits, which I'll explain briefly:
i.          It's a low cost plastic sheet extrusion process
You can easily and readily find raw materials for making PVC sheets at affordable prices. What's more, the process is not labour intensive and you will only require a few workers to manage it.
ii.        It's fast and can run continuously for long hours
The process of making PVC sheets is automated even to the stacking of the finished products, which is done by a robotic unload hand. Your machine can operate for long hours as long as you continuously feed the raw materials. This will allow your factory to produce large  quantities of finished products quickly.
iii.      It allows for variety and diversity in the products
Figure 16: SPC flooring with wooden finish
With the plastic sheet making line, you can produce sheets with different finishes and thickness. Specifically, you can do PVC marble sheets, SPC flooring and PVC imitation sheets. Now, I want you to understand that anything with a thickness of more than 0.25mm is considered a sheet. The BENK plastic sheet excursion line can produce sheets with a thickness of 1  to 8mm and a maximum  width of 1220mm. The PVC sheet has a thickness of 1-5mm, and SPC flooring is between 3.2 -5mm. Not only can you vary the thickness, you'll have the chance to apply PVC Plastic floor coverings with different colors and patterns.
Figure 18: PVC Film Rolls
The decorative covering is usually made up of PVC or vinyl film with a thickness between 0.14mm. Some companies can create custom designs for you that vary in thickness, color, pattern, and size. So, that means you can adjust to the markets' tastes and preferences.
i.          There is  minimum wastage
You will also notice that there is minimum wastage during the manufacture of PVC sheets. Only trimming of the sides is required to maintain the right dimensions of the final product. The plasic trimmings  can also can be recycled by crusher and pulverizer. It's not only cost-effective, but it's good for the environment since the process generates less pollution.
ii.        Easy to learn
Understanding the process of making plastic sheets is fairly simple. However, the most challenging part is the formulation of raw material and controlling the temperatures in the extruder. However, our engineer will give you a formulation and will test the formulation for you in your factory. And the machine adopts PLC control that ensures effective linkage of man and machine.
Disadvantages of the Plastic sheet Extrusion
It's safe to say that the plastic sheet making process has more advantages than disadvantages. The challenges are related to the process, which means you'll get better and better solving them. They include:
i.          Expansion
Once the plastic leaves the shaping die, it's still hot, and may expand prior to cooling. Predicting the degree of expansion may be challenging when you're first starting out, but our engineer will teach you, he will give you the rough temperature.
ii.        You can't use the plastic sheet making line for other products
It's good to note that you can't use the plastic sheet making line to manufacture plastic boards. A plastic board has a thickness over 4mm, and requires a different set of down-stream machines.
Chapter 3: Plastic Sheet Extrusion Products and Uses
PVC marble sheets and SPC flooring are gaining popularity all over the world. In fact, they are very hot in the USA, Euros, as well as China and India. In this chapter, we'll look at the reasons for their wide adoption and places of use. First of, you should note that there are two different plastic sheet products:
PVC marble sheet – they are have two layers (a PVC base layer and Print film with marble designs) and used mostly for cladding furniture and walls.
SPC Flooring – Since floors are exposed to abrasion, water, and other forces, SPC flooring materials have three or more layers e.g. (PVC base layer, Print film, Anti-scratch waterproof and UV curing layer as shown in the diagram below:
Figure 19: SPC flooring layers
PVC Marble Sheet
Marble flooring has been highly sought after for centuries. It's not only eye-catching but it's durable and exquisite. Despite rising incomes levels in most countries, marble is not a flooring option many people can afford. That has lead to more people to use plastic marble sheets instead. This means, if you want to start manufacturing PVC marble sheets, you're in a growing market, which may keep thriving in the coming years.
Figure 20: PVC marble sheets on the walls
How PVC marbles sheets are made?
The main materials are calcium carbonate (CaCO3) and PVC, which give the marble sheet its base body. Plasticizers and other chemical auxiliaries are also used. .
Since PVC marble sheets require two layers only, we use a three-roller calender configuration during their manufacture.
Places of use
Bathroom and kitchen walls.
On the surface of furniture such as tables.
In interior design for waist lines, decorative lines, ceiling lines, and skirting lines.
Properties
Self-Extinguishing
If  you expose a PVC marble sheet to a small fire, it'll not burn. However, it's self extinguishing unlike other organic materials in the building, such as wood or textiles. This property is thanks to the high content of chlorine in PVC.
Design Patterns
The PVC marble sheets can adopt any design and pattern exhibited by real marble. They make can any house look prosperous and elegant at a fraction of the cost of hard wood or stone flooring.
Durable
PVC sheets can continue to look good even after many years of use. This is because PVC sheets don't corrode, and they are resistant to abrasion shocks and scratches. Lightweight and simple to install https://youtu.be/-H_0IC3mUhc Being lightweight, it's easy to store, cheaper to transport and handle artificial PVC marble sheets. Installing them is also less complicated. On the other hand, real marble is extremely heavy. Because of the added weight on the structure, more reinforcements may be needed which increases the cost of the building.
Cost-effective PVC marble sheets are relatively inexpensive  to produce. This means you can sell them at affordable price to your customers.
Safe for humans
PVC has been widely adopted in the construction industry because it's non-toxic. It meets all the international safety standards. And since it has been around for a quiet a while, it's thoroughly tested and well-researched.
Waterproof and resistant to insects
You don't above to worry about water spoiling your PVC marble clad furniture or walls.
Don't require professional maintenance
One draw back of real marble, is that it requires very skilled professionals to clean and maintain it. PVC marble sheets doesn't require them same degree of professional care, which will save you costs in the long term.
Less wastage
During the manufacturing up to the installation of PVC marble sheets, there is minimum that's generated.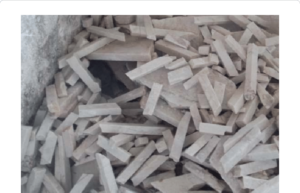 Figure 21: Waste generated after cutting marble plates
In fact, PVC plastic sheets are recyclable. On the other hand, installing marble takes a lot of time, and there is a lot of waste from the marble cutting process. This might make you lose money, while PVC marble sheets don't have this drawback.
SPC Flooring
If you're wondering what SPC means, it simply stands for Stone Polymer Composite, or Stone Plastic Composite. You may also hear it been referred to as Rigid Core luxury vinyl flooring. Currently, it's the hottest and newest entry in the flooring market! Not only that, it's also the most durable vinyl flooring. You may be surprised to learn it's ultra-thin, with sheets not more than 6mm thick. SPC Flooring Layers SPC flooring is durable and strong because of its layers:
Figure 22: SPC flooring layers
Cork/Eva/Attached Base This layer is added when installing SPC flooring on the floor, or attached during manufacturing. It provides insulation thus prevents the SPC floor from being too cold. And it adds comfort to an otherwise hard surface.
Rigid Core/SPC Vinyl Layer
It's the most significant layer. It gives SPC flooring its strength, and it's waterproof. This means unlike wood, it can't absorb water, swell or rot. To make it, you'll need the same raw materials as for PVC marble sheets, which are Calcium Carbonate, PVC, and other additives.
Figure 23: Rigid core luxury vinyl layers
Printed Decorated Layer/Luxury Vinyl Print
This is the layer that makes SPC flooring look like real hardwood or stone. It's attached to the plastic base using a process called hot stamping -usually when the PVC base is still hot. Despite making your floors look gorgeous, it enhances its durability. Wear-resistant Layer and UV layer for color protection Unlike walls, floors are constantly being subjected to abrasion, friction and direct exposure to sunlight. Without this layer, the printed layer would quickly wear out, develop scratches or start browning due to exposure to UV radiation. By adding this layer, you can ensure the SPC flooring still looks good after many years of use.
How SPC Flooring is made
You'll need a four roller calender to make SPC Flooring. Our SPC flooring machine can make 1220mm width SPC sheets. So, if you want to make SPC flooring with interlocking glue less planks , you also need two auxiliary machines, which are:
The slitting machine
Milling groove machine.
Figure 24: Slitting Machine
The slitting machine is used to cut the 1220mm width board into small planks..
Figure 25: Mill groove machine.
Next, the milling groove machine slots grooves on both sides of planks. Installing them will be a matter of  of interlocking them one by one, without glue.
Places of use
High traffic areas such as hospitals, hotels, shopping malls, restaurants, super markets, airports.
House flooring including kitchens, bathrooms and basements.
Properties of SPC Flooring
Very Durable
Because of how's made (the multi-layers), SPC flooring is extra durable. First, as we mentioned before,  it's 100 percent waterproof. The wear layers also make it stain, dent and scratch resistant. Finally, it's very rigid and doesn't break or buckle when objects fall on it.
Very quiet and comfortable
Wooden floors tend to produce lot of noises, when they are stepped on. Stone floors tend to be cold. And ceramic floors can be both cold and slippery. SPC flooring is designed to eliminate these problems. Easy to install – any may not need glue https://youtu.be/7O9WcMLeklE You can make SPC flooring planks with click system, eliminating the need for glue. Also, this will make them very easy to install even without any prior experience. There is also zero wastage, and minimum floor preparation is required.
Eco-friendly
SPC flooring is eco-friendly because of two things: First, it's durable, and during its lifetime it requires minimum maintenance. After that, you can also recycle it. Secondly, SPC flooring consumes less raw materials during the manufacturing process. Unlike wooden flooring, no trees are cut down to make it.
More and better decorative patterns and colors
Customers get many decorative patterns and designs by choosing SPC flooring over wooden floors or stone floors. You may have a hard time telling apart stone-like and wood-like SPC floors from real ones.
Chapter 4: Technical Specifications of Plastic Sheet Extrusion Machine
Equipment for PVC Marble Sheet:
| | |
| --- | --- |
| Extruder | SJZ80 conical twin screw extruder |
| Mold | T-die from JC time brand |
| Forming machine | Three-roller |
| Surface hot transfer | Two rollers up three roller |
| Cooling bracket |  Aluminum pipe with side cutting knife |
| UV protect film | up haul-off |
| Haul-off | two rollers |
| Cutter and stacker |  No-noise cutter and automatic arm |
| Control system | Siemens touch screw and Siemens PLC |
| Electric parts and motor |  Siemens Ac motor, Schneider and Ormon electric |
Specifications:
| | |
| --- | --- |
| Extruder | SJZ80/156 |
| Output | 350-400KG |
| Finished sheet wide | 1220mm |
| Finished sheet thickness | 1-8mm |
| Main motor | 75KW |
| Control | PLC |
Auxiliary machines:
When you're getting the SPC flooring line or the Plastic Sheet Extrusion line, you might need auxiliary equipment. Note that, they are not part of the production line:
PVC Crusher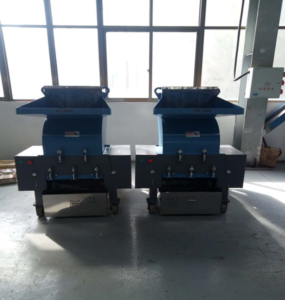 Figure 26: PVC Crusher
Sometimes, the PVC sheets coming out of the production line may have some deformities. So, you may be forced to throw them away. However, this is wasteful, expensive and not good for the environment. If you want to minimize the waste generated by a plastic factory, you will need the PVC Crusher. It has a knife that crushes SPC flooring and Plastic marble sheets to small bits. We will design the crusher based on your needs. (Learn more about it here) https://www.benkpm.com/plastic-crusher/
PVC Pulverizer
Figure 27: PVC Miller
It is also called the PVC miller, and it mills bits of PVC into powder form. The PVC powder is then mixed with the fresh batch raw materials and thus recycled. You may want to choose our miller because it's low-noise and doesn't produce a lot of dust. What's more it has an automatic feeder and won't consume a lot of power. (Find out more about it here) https://www.benkpm.com/plastic-pulverizer/
Chapter 5: How to Choose a Reliable of Supplier of Plastic Sheet Extrusion Machine for Mable Sheets and SPC Flooring
Now that you've learned about the PVC sheet extrusion line, you may still have doubts if we were the right supplier for you. We are…and the best way to know this is to get in touch with Tony, the Manager at BENK. Send him pictures of what PVC sheet products you want to manufacture. We have been in the business for many years, and we'll be able to send a quote right away. We can also arrange for you to visit our factory and see the machines for yourself. There are more reasons to trust BENK as you trusted supplier for PVC sheet making machines: Knowledgeable and experienced We've been in the business for more than 10 years, and over this time period we have garnered experience in the plastic manufacturing field by producing highly-efficient machines, installing them for our customers and providing technical support. Excellent after sale support After you buy the best plastic sheet extrusion machine in China from Benk, that's when the real work starts. We'll send our engineer to help you install it. The engineer will also provide free formula support so you can start manufacturing as soon as possible. However, as you gain more experience manufacturing  plastic sheets, you might have to tweak the formula to fit your local market. If you have staff, our engineer will train them on how to use the machine and maintain it. They will also need to learn how to control the temperatures in the extruder and how to improve the quality of the extrusions with time.
Long-warranty for parts
We use electric and mechanical parts from top brands in the world like Siemens. Still, you get a 13-month warranty for electrical parts and a six-month warranty for spare parts.
Troubleshooting support team
If you have any problems with the plastic sheet machine, all you need to do is email or call us. We have two to three engineers always on standby ready to help our oversees clients. We can arrange for them to provide support over the internet. And if the issue is complex, we'll book air tickets for them so they come to your factory.
Trusted by big and small plastic manufacturing companies
We have sold our machines to clients in India, Turkey, and other parts of the world. In any given year, we have numerous sets of plastic sheet excursion machines shipping to oversees clients. As of now, we are in the process of finding reliable agents to make our machines more accessible to different regions.
Fast delivery
After you sign a contract for the purchase of the plastic sheet extrusion machine, give us 30 working days to ship the machine to you. And if we have the parts in stock, we can take less time to ship them. You can easily venture into other plastic product lines If you want to start manufacturing plastic pipes, plastic doors, or plastic ceilings, we have all these machines and more! They are quality machines not prone to break down, which will make your factory prosper.
We will get back to your in less than 24 hours
Figure 28: Plastic Sheet Marble Sheet Line
If you have questions about our PVC marble sheet line or SPC flooring line, send your inquiries and we'll respond professionally and speedily.