Benk Machinery will KOPlas 2019 in Koera, our stand No. is Hall 4,5217-60. Welcome to have seat in our stand.
About KOPLAS
The Korea International Plastics and Rubber Industry Exhibition (KOPLAS), hosted by Korea E&EX, will be held at the KINTEX International Exhibition Center in Korea.
In 2017, 317 exhibitors from 32 countries around the world will exhibit plastic rubber machinery, molds and other products, as well as The range of products from product design to cutting-edge technology has reached 21,384,000 square meters, including 131 exhibitors from South Korea, 70 exhibitors from China, 1 from Hong Kong, 9 from China, 50 from Germany, 40 from Japan, and 39 from the US. There are 13 in the UK, 13 in Switzerland, 24 in Italy, 5 in France, 3 in India and 3 in Thailand. The audience reached 89,910 person-times, of which 2,074 overseas buyers.
In the same period, INTERMOLD KOREA and HARFKO exhibited an area of 76,000 flats, 4,000 booths and 900 exhibitors. At present, there are more than 4,000 plastic and rubber enterprises in South Korea, with an annual market size of 5 billion US dollars, and it continues to rise every year. Recently, the export volume of automobiles, home appliances and other industries has increased greatly. Various industries are working to reduce human resource costs, improve technical content, and achieve production automation, thereby strengthening international competitiveness. In this process, investment in various equipment will inevitably increase. With the development of the Korean plastics industry, the scale of the Korea International Plastics Fair is growing, and it is believed that it will be the best stage for your company to expand its business. You are welcome to participate in this exhibition and get more information and information through this exhibition.
Time of KOPLAS
Date
12 MAR. -16 MAR. 2019
 Venue
KINTEX(Korea International Exhibition Center) Hall 4, 5217-60, Kintex-ro, Ilsan-seogu, Goyang, Gyeonggi-do, Korea.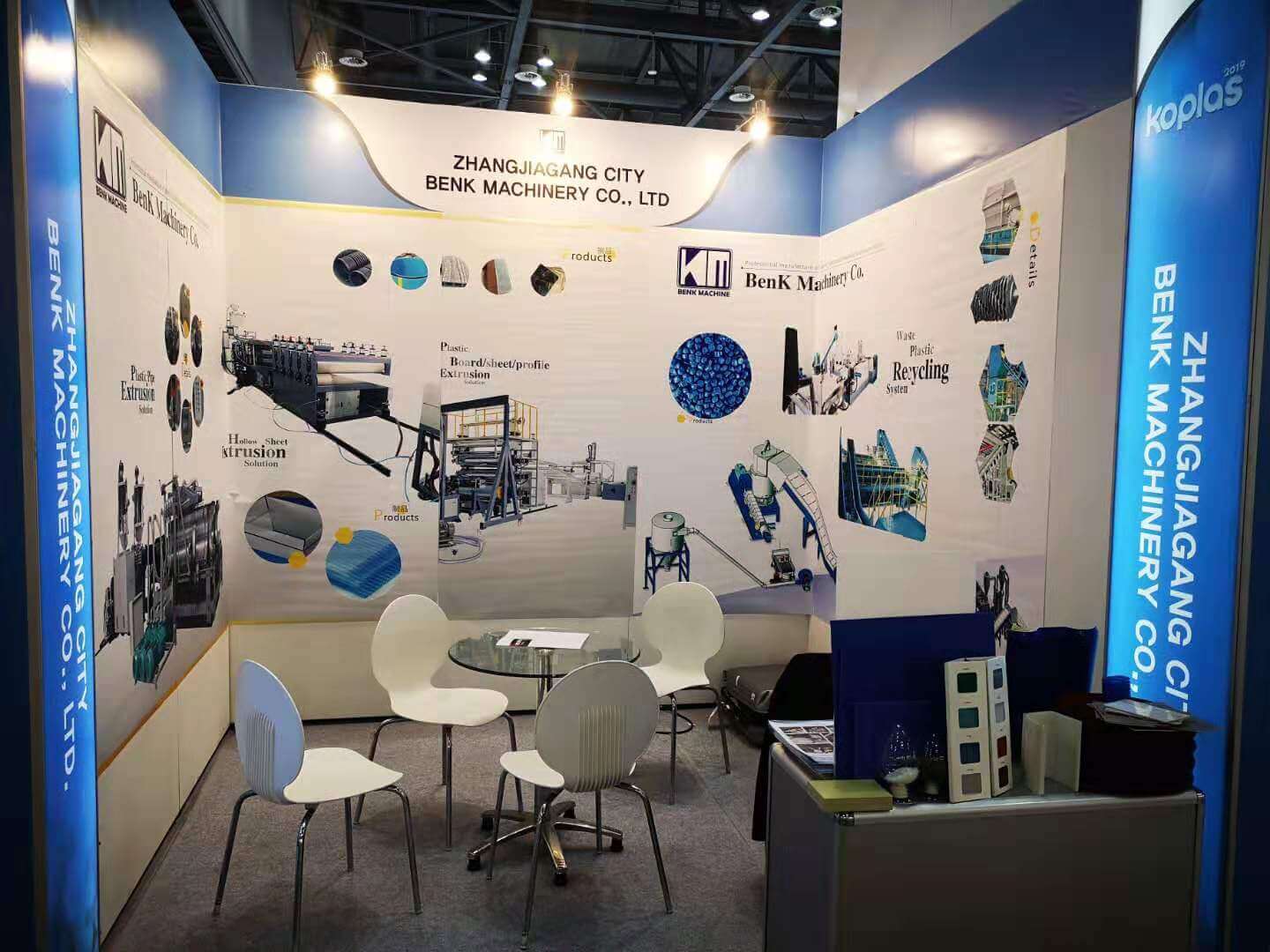 What Benk Machinery will bring to you?
Our colleague Mr. Eric will be there, he will assist you what plastic extrusion you need, and he can supply more useful informations to you if you are new in the industry.
Benk Machinery is professional in making plastic extrusion machine and recycling machine located in Zhangjiagang city which is nearby Shanghai, and welcome to visit us, we can arrange car to pick you up from Shanghai Pudong Airport.