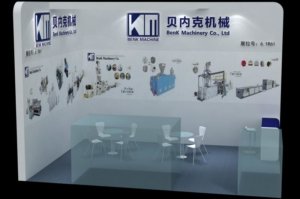 Connect With BENK Machinery at the Chinaplas 2018 Fair
BENK Machinery will attend the 2018 Chinaplas from April 24-27, 2018. You can find us on stand No. 6.1 R61. Attendants will need to register beforehand. You can register here.
What is Chinaplas?
Chinaplas is the flagship exhibition in the plastic and rubber industries. It was established in 1983 and is currently the largest plastic and rubber fair in Asia, and the second largest in the whole world after Germany's K-Fair.
The organizers of the fair keep reporting record-breaking numbers of visitors and exhibitors year after year. The 2016 fair had 148,575 visitors and 3,335 exhibitors. The following year, 2017, the show attracted 155,258 visitors and 3,300+ exhibitors from 40 different countries.
2018 Chinaplas Location and Dates
The 2018 Chinaplas fair will be held in the National Exhibition and Convention Center, Hongqiao, Shanghai (NECC) (No.333 Songze Avenue Road, Qingpu District, Shanghai, PR China). The exhibition will take place from April 24th to the 27th.
While the fair is held every year, the venue keeps rotating. The 2016 fair was held in Shanghai, the 2017 fair was held in Guangzhou, while the 2018 exhibition will return to Hongqiao, Shanghai.
Transportation
If you would like to attend the 2018 Chinaplas, you can get there by train, plane, bus, metro, or taxi. There will also be free shuttle transfer from zone to zone one although this will follow a strict timetable.
The NECC is a 19-minute-drive from the Hongqiao International Airport and it lies 5 kilometers from Shanghai Hongqiao train station
Chinaplas 2018 Expected numbers
The 2018 Chinaplas will have 3,400+ exhibitors showcasing plastic and rubber machinery, materials, and technologies. It is expected to pull in 150,000+ visitors and 3,800+ machinery exhibits from companies from China and the rest of the world.
Registration
The deadline for pre-registration is 19th April, 2018. However, visitors can also register on-site although this will attract a slightly higher admission fee of RMB ¥50 for a 1-day pass, and RMB ¥80 for a 4-day pass.

What Kind of exhibitions can you find?
You can find plastic raw material suppliers and manufacturers of plastic extrusion, plastic blowing, and plastic injection machines. The fair also showcases robot machinery as well as plastic spare parts suppliers.
The BENK Machinery Chinaplas 2018 Stand
You can find us at stand No. 6.1 R61. You will be able to learn more about our range of plastic extrusion machinery as well as the services we offer. Visitors to our stand will have in an inside look into how we operate and everything we have in stock for the future of our company and our clients.
If you still have questions for Chinaplas, pls contact our support them for an assistant. Thanks.